Posted by admin at 24 March 2015, at 23 : 01 PM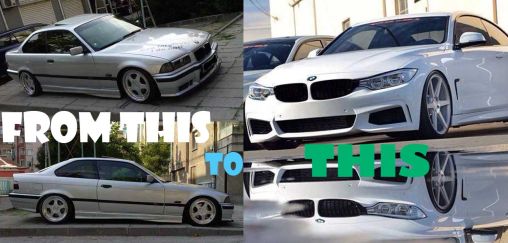 Yesterday, we posted an article about the 1996 BMW 5 Series 520i E39 transformation into F10 2010+ model. Today, we have more transformations for you. This time, we have a BMW E36 transformed into a 4-series BMW F32 by the Bulgarian company called "Rci Tuning". Also, the same transformation can be done with the BMW E46 model. You can transform your E46 into a 4-series F32 or F82 M4.
If you would like to transform your E36 or E46 BMW into a 4-series BMW F32, it would cost you 5,700 Bulgarian Levs, which is equal to around $3.2K. This price is for the kit only (without headlights and taillights). You would need to deliver your BMW to the Bulgarian company and wait until the job is done. For the BMW F10 transformation, it would take a few weeks until the job is done, so it should be the same with the 4-series BMW transformation… could be less or more…
You can also transform your BMW E36 or E46 into an F82 M4 (picture below) for 24,000 Bulgarian Levs, which is equal to around $13.4K. This transformation looks nicer compared to just the 4-series F32 transformation, but it also costs a lot more. It also is just a visual transformation, no technical side of the car is touched.
All these transformations look quite nice. However, I'd better buy a real F32 or F82, simply because I like real things instead of "cheap" copies. If I can't afford to buy a real F32 or F82, I'd better drive a normal E36 or E46 instead of that. I mean, I have nothing against these transformations – don't get me wrong. Also, I can bet that a lot of people would like to transform their E36s and E46s into something like that, but a replica is just a replica.