Posted by admin at 12 April 2015, at 16 : 00 PM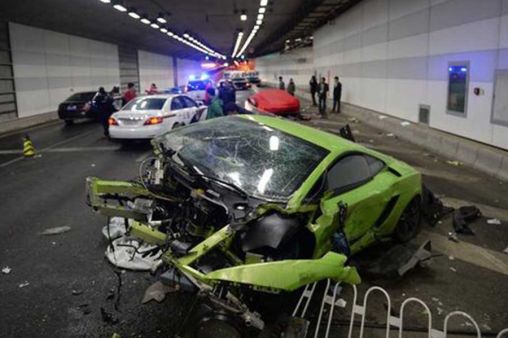 Two exotic supercars crashed badly in a tunnel near the Bird's Nest stadium in Beijing earlier this week. The crash happened just a day before the premiere of the new "The Fast and The Furious" sequel in China.
It's still unclear why the crash happened. Maybe the drivers were racing. A large section of the tunnel wall was ripped off by the impact.
Both cars, the Ferrari and Lamborghini, are damaged badly. However, the Ferrari took a lot less damage than the Lamborghini. The Ferrari lost the right door and has some other damage on its right side, while the Lamborghini is a complete write-off. After the crash, the Lambo lost its front end and also, was left with the back wheel completely ripped off from the axle, plus some other damage to the left side, windshield, and more.
It was reported that the drivers walked away without any serious injuries. No other people were injured.