1969 Chevrolet Camaro SCCA Race Car Over 450 HP [SOLD]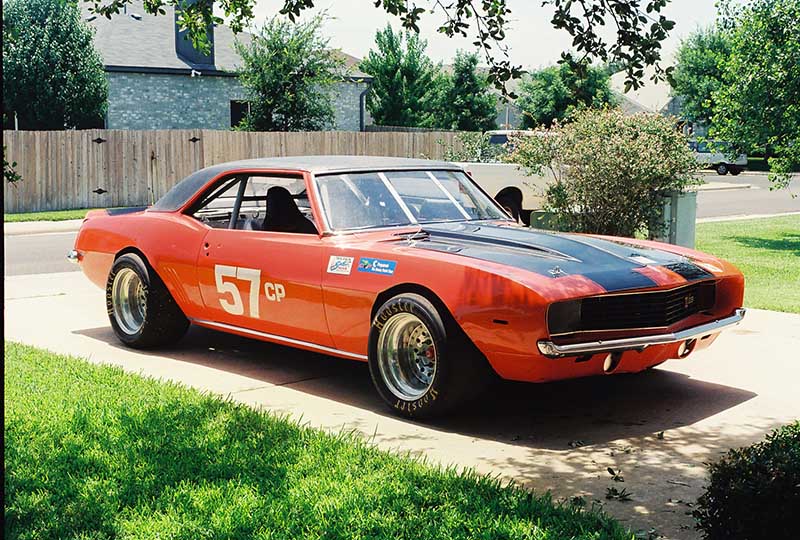 US $SOLD
Send Inquiry
Read
T.O.S
[<-Click]
before sending inquiry! Also, some sellers can't be contacted by email (inquiry). Check at the bottom of this vehicle ad for info.
Vehicle Summary
MileageUnknown
AvailabilityNo
Year of Manufacture1969
Fuel-
Vehicle Detail
THIS CAR HAS BEEN SOLD!
1969 Chevrolet Camaro SCCA Race Car Over 450 HP For Sale.
The car was used for auto-crossing and terrorized the SCCA Southwest Division be tween 1989 – 1998. I raced it sparingly after that till about 2002. The last few years I owned it were spent sitting in the garage, starting it up now and then to keep the motor fresh, buzz the neighborhood a few times and waking up the neighbors!!!! I don't have a logbook – but I do have a slew of trophies!!
ENGINE
The engine is a 350. The bottom is a LT-1 four bolt main block with a steel crank. The rods are also LT-1. The pistons are TRW 11.5-1 comp ratio. The cam is an Isky circle track cam. I don't know the part number but it was 3000 – 7000 RPM range. The rockers are Comp Pro-Magnums w/ 1.6 ratio. The heads are AFR (Air Flow Research Aluminum heads). Victor Jr intake port matched to the heads. The carb is a Carb Shop 750 Holley. With all the mods. It would flow 920 very much like the BG or Demon carbs. The exhaust is a Dr. Gas system with Flow master single chamber mufflers. The engine made a little over 450 HP. Aluminum radiator. Headers wrapped in heat tapeROLL CAGE8 point certified SCCA roll cage.
SUSPENSION
The suspension is a Dick GuldStrand handling suspension everything has been lowered with sub frame connectors and aluminum body mounts.
REAR END
The rear end was a stock 10 bolt with a Richmond Gear LSD and 4:11 gears.
TRANSMISSION
The Muncie is an M-21 close ratio box with a 2:20 low. With scatter shield.
CLUTCH
Center Force clutch system.I was going to put stock fenders on it and fix the rear quarters be cause they had to cut them to fit the wide tires and rims. And put 15" tires on it and run it on the track it is a very fast and fun car to drive but right now the motor and trans is in the car and i have started to restore this car some parts are in boxes motor and trans are just sitting in car. If you have any questions email these car are very rare!.
CAMARO PARTS!
front stock spoiler, inside door panels front and back in black, front and rear taillights, front coil springs, richmond gear 373 ring and pinion, holley carb parts. that all goes with the camaro.
I also have a complete set of door glass and all window regulators and back glass window.
Car located in – REMOVED
THIS CAR HAS BEEN SOLD!
Makes: Recently SOLD Chevy Camaro Cars.