1995 Chevrolet Camaro Hardtop Forged 396 LTx Stroker For Sale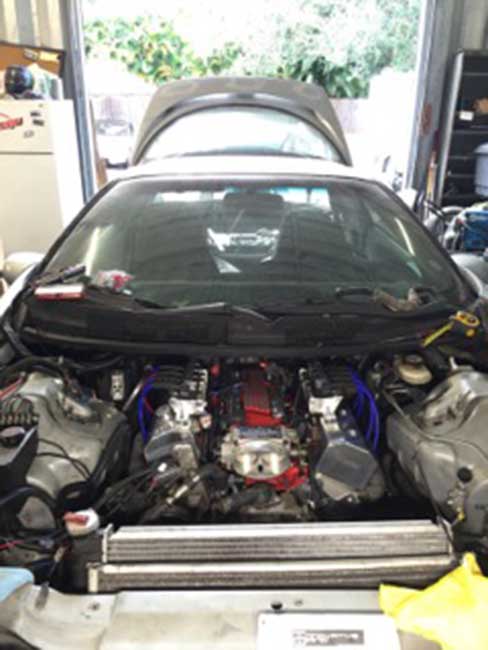 US $15000
Send Inquiry
Read
T.O.S
[<-Click]
before sending inquiry!
Vehicle Summary
Mileage-
AvailabilityYes
Year of Manufacture1995
Fuel-
Vehicle Detail
1995 Chevrolet Camaro Hardtop Forged 396 LTx Stroker For Sale.
I have made the decision to sell my beloved Camaro.
The Chassis is 1995 (formerly V6) Hardtop Chassis I bought as to replace original '96 Z28 Chassis which bent severely under the torque of the build that preceded this setup.
This chassis needs paint, has minor dings and blemishes, but has never been driven with this setup and has never seen a moment of any actual torque. It's an original Florida car and rust free. She's been on jacks in my shop, for now over three years and to the best estimate I can give you is that there's literally only a couple of hours work to fire her and a few days of work to finish her off. I have everything needed to finish her, except for a L460e tranny bracket, that has disappeared. Once that's complete, an hour on a reputable tuner's dyne and you're ready to go.
I'm selling everything Camaro oriented.
I've got two hoods, two rear decks, extra doors, door panels, carpet from the 96Z, much more… pretty much everything that was in the old Z including an extra Performa-buit Tranny which is good to go, except it needs steels and frictions. It slipped about a week after I finished the last build and I pulled it and installed a Performabuilt Lvl 3… But that Lvl 2 shifts like a banshee and is good to 600 chp.
Now that was pretty much all the bad news, and now that it's out of the way, let's focus on the good new:
1996 LT-1 Block 396 CR12.5:1
All machine work and short block assembly was done locally by reputable Machinist.
– Forged Eagle Crank
– Forged Eagle H-Beam Rods
– Forged SRP Piston
– ARP bolts, bearings and rings, all have a few thousand miles on them, as the bottom end was built on the previous setup.
When the old Z chassis bent, I decided to replaced the old AFR 195s, with a new set of AFR 210s… which I sent directly to Lloyd Elliot for porting, along with the LT4 intake.
– AFR 210 LE Ported and assembled heads (never fired).
Manley valves and I forget what Lloyd spec'd out for springs, but everything in the valve train is brand new, appropriate for the application and professionally installed.
Heads flowed 308cfm @.600 lift.
– >.600 lift Lunati Cam (spec'd by Lloyd Elliot who Ported the Heads and Intake. Lloyd is a legend in the LT1 Community and has produced some of the fastest LTx cars in the business.)
– Comp Pro-Magnum 1.6 Roller Rockers, Guides.
– 7/16 Studs
– Comp Lifters, Hardened push rods.
– New Summit HP Oil Pump (never fired)
– Summit 6 Qrt Pan
– Canton Valve Covers
– LT4 LE Ported Intake to match heads
– 58mm TB
– Nitrous Outlet 58mm Wet TB Nitrous Plate and Solenoids Misc. Jets to 150 IIRC
– Nano Nitrous Kit with 10lb bottle
– 24X Ignition (never fired)
– Brand New Professionally Assembled Engine Electrical Harness
– Used LS Coil Packs custom fab'd brackets mounted on Canton valve covers
– Performabuilt Lvl 3 A4 Tranny
– Yank 3600 Stall
– Custom 4" PST Aluminum Drive Shaft (to fit Strange D-60)
– Meziere High Volume Electric Water Pump
– Brake Line Lock (installed but never been driven, brand new brake lines up front).
– New Racetronics Fuel Pump with Direct Wiring Kit installed.
– Suspension: (All Red unless otherwise indicated)
– BMR K-Member
– BMR A-Arms
– BMR Trak-Pack ACA
– BMR SFC (Not installed)
– Hotchkiss LCAs (Black)
– Strange D-60 Rear Axle / Spooled Differential
– 5/8 lugs
– 40 spline, gun drilled axels
– 5.13 gears (if you haven't driven a car with a stump puller gear, don't laugh. It's crazy addictive. No one pulls a fly-by on this car.)
– Kook 1-3/4" SS headers 3-1/2" collector. I heat wrapped these just before I bolted them on… .
– Fairly new 3" exhaust including Flowmaster Catback.
– New Braided PTFE Fuel Lines to run all the way from rails to pump, 6AN PTFE Fittings and Brand New 6AN Earl's Fuel Filter.
– Three Piston Bear Brakes up front with monster rotors, new braided lines installed from the new hardline.
The AC Compressor went back in this time, but it's never been charged… but the lines are present in the package.
Obviously, since it's never been fired, there's no dyno numbers. But I expect she's pushing around 550hp at the crank and likely 450 out back. The LS1 PCM has a start up tune, but will need an hour on the dyno to get it where you want it.
Previous performance.. On the last setup, with AFR 195 heads and a mail-order tune, the car ran 7.2s in the 1/8th, NA on the bent chassis. Those heads flowed 270 CFM @ .600 lift and with the 24X ignition and the means to spin her up through 7K, she's easily running 6s in the 1/8th… .
Good rubber, drag radials out back… Centerline Polished Aluminum Wheels all the way around.
But, what I have always loved about this car, is her ratty appearance and her consistent ability to break the heart of drivers running brand new and otherwise pretty sweet rides.
She's setup for what we were running here, which is a heavily patrolled street, short 0-80ish, light to light and of course the 1/8th mile.
And within that scope, she is a brawler.
So, for what amounts to 1-1/2 Camaros, I'm looking for $15,000 for ALL OF IT.
Not really looking to part her out. I'd like to just cut her loose to someone who knows what she is.
I won't sell her to anyone under 25… as this car is a badass and she will kill you if you do not respect her.
But, properly cared for and driven respectfully, as there are no computers to tame her, she's old school meat on the hook street/strip.
Reasonable offers considered… And please respect the work. I am not looking for critiques. Selling this car absolutely sucks. I loved every minute of working on it and driving it. My health just no longer allows me to get up under her and who ever gets it will be taking a huge piece of me with her.
So… there it is. Thanks for coming this far.
Contact phone – 239-289-6230 – (use phone number only, don't send inquiries – contact by email is not available).
Car located in – Naples, Florida, US.
Makes: 1993-1995 Chevy Camaro.Vehicle Tags: Florida.