Posted by admin at 21 November 2014, at 22 : 25 PM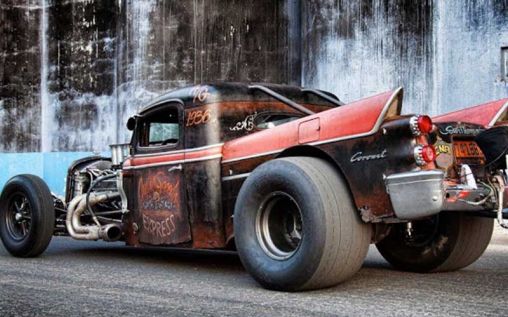 So you've narrowed down to choices to building a 50's Rat Rod, and you are trying to figure out in what direction you want to go. Chop the roof or leave it stock height? If you are going to lower the car, how will you do it? What about the chrome? These are things that we will discuss.
Lots of people love the look of a chopped roof. This adds to the traditional style of a Rat Rod. Although this should not be attempted by a novice or even a moderately experienced person — Don't be too scared of it. If you mess it up, you can always cut and re-weld. That's the good thing about an old steel car — Lots of potential to fabricate with.
If you decide to chop your Rat Rod, here are some simple tips: Remove all of the interior. Even though the interior might be worn, lots of sparks from grinding and welding will occur. Also be sure to protect all glass as it will burn and pit. By the time you chop your roof, all glass should be out regardless. Be careful reshaping metal. Using heat is a helpful way, just don't get too overbearing and distort perfectly straight metal.
As far as height goes, lowered Rat Rods are very cool. While changing springs to adjust the heights is the easiest way, it is uncontrollable. Once you set it, it stays that way. The good thing with airbags is that you can park it and lay it all the way down and raise it for a comfortable ride. Installing air bags are not too difficult, but there is com fabrication involved. Replacing coils with airbags is an easy remove and reinstall. Rear airbags replacing leaf springs are a bit more involved. Some brackets need to be welded to the rear and rear floor to make it work. All you have to do is plumb the system and add 12 volts. A bit involved, but impossible it's not.
Shiny chrome and Rat Rods really do not mix. Trying to make a statement by having a rust bucket of a car and shiny chrome is almost an oxymoron. Weathered chrome is great. Also painting the trim, if you have any, is just fine also. Make sure to paint it in a flat or stain color.
Hopefully this will point you in the direction you want to go. And when all else fails, just use some common sense.