Posted by admin at 17 November 2017, at 12 : 13 PM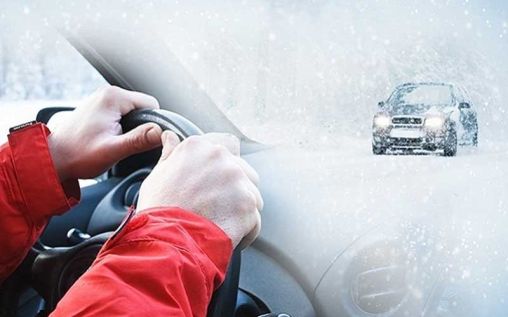 It's that time of year again when the mercury plunges, and the roads become increasingly hazardous. Winter is one of the most dangerous times of year for drivers. If you're preparing for a wintry road trip, you're heading home for the holidays, or you commute to work on the roads every day, you've come to the right place. Here is the only winter driving guide you'll ever need!
Driving in snow
The USA is a vast country and weather conditions vary hugely according to where you live. While you can expect endless days of sunshine in Florida and California, there are several states in the US, which are blanketed in snow every winter. Driving in snow can be treacherous. The roads may be blocked, the surfaces will be slippery, and visibility may be poor. If it's snowing outside and you've got a journey to make, it's beneficial to plan your route in advance and check the weather forecast. If there's just a little bit of snow on the ground, this shouldn't pose too many problems, especially if the roads have been gritted, but if snowfall is heavy, think twice about going out in the car.
Before you set off in snowy weather, check your car and consider using snow chains if the snow is very deep. You may also wish to swap your tires for winter tires, which offer better grip than summer tires. Check that your wipers are working, you've got enough gas to get to your destination and have a look at your oil levels. It's also worth looking at the tire tread depth and checking the pressure. If you're heading out in cold weather, it's best to err on the side of caution and pack plenty of warm layers, snacks and drinks, just in case you do have to pull over and wait for a snowstorm to subside or you need to take a break. It's also advisable to have a high visibility vest and a warning triangle in the car and to pack a torch and an in-car phone charger. You may also need a map, and it's wise to have your breakdown cover details to hand.
When you get onto the road, you'll need to adjust your driving style. Driving in snow is not the same as hitting the tarmac on a bright, sunny, clear day. Slow down, especially if visibility is poor or the roads are slippery, and give other vehicles around you plenty of time and space. If you're driving recklessly and you're tailgating, you will be liable if there is an accident and somebody else gets injured. If you've got somebody following you too closely or there's a car weaving in and out of traffic ahead of you, keep your distance and try and stay calm and relaxed. If you've been injured as a result of someone else's negligence, you can click here for advice about making a claim. Take extra care when turning out of junctions and overtaking and remember to adjust your stopping distance. If the surface is icy, you'll need up to 10 times more space between you and the vehicle ahead. Check your mirrors and your blind spot before changing position and consider driving in a lower gear. If you start to skid, drive gently into the direction of the skid and keep your hands on the wheel. Avoid braking very suddenly.
Driving in torrential downpours
Heavy rainfall can make driving incredibly dangerous. It can be difficult to see in front of you and around the vehicle, and the surface may become slippery. If there's surface water on the road, try and avoid it if possible. If the rain is so heavy that you can't see anything, slow right down or pull over if there's a safe place to do so. If the forecast is dreadful and there are weather warnings in place, consider whether it's essential to make the journey. It may be best to stay at home or delay your trip. If you are going out and the roads are wet, remember to increase your stopping distance. Keep well back from the car in front, and try and stick to major highways and main roads, which are less likely to flood. Use your lights to improve visibility and alert other drivers to your presence and turn the air conditioning on to prevent the windshield and windows misting up. Don't attempt to drive fast if it's raining cats and dogs outside. This could result in the tires losing grip, and you may find that the car starts aquaplaning.
Driving in high winds
Most of us tend to feel safe and secure when we're in the car, even if it's raining outside or the weather is miserable. However, when there are strong winds, even the sturdiest vehicle can come unstuck. Sometimes, you can feel the car shaking and shuddering, which can be scary. If there are high winds forecast, try and avoid open roads and high ground and keep both hands on the wheel at all times. Powerful winds are particularly dangerous for high-sided vehicles, so steer clear of lorries and trucks. Reduce your speed and give other vehicles more room. It's particularly important to be wary of bikers and cyclists, as sudden gusts can blow them off course.
Are you looking forward to a winter road trip or are you heading home for the holidays in the next few weeks? Many of us are experienced when it comes to driving in wintry weather, but the conditions can be hairy, and even expert drivers can find it difficult to get from A to B safely. If you are going out on the roads in adverse weather conditions, be careful and pay attention to the rules of the road and temporary restrictions. Be prepared to reduce your speed and increase your stopping distance and keep back from the car in front. Be patient, and if the conditions are really poor, consider postponing your journey. It's always better to be safe than sorry.