Posted by admin at 7 May 2013, at 22 : 55 PM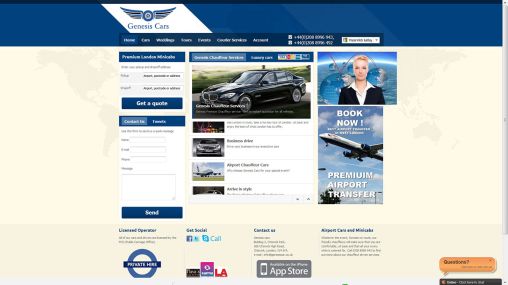 Genesis Cars we are Minicabs / Taxi / Chauffeur's in west London, United
Kingdom.
Genesis Cars is a Minicab/Chauffeur driven car company with a difference; we
pride ourselves on treating our general public clientele and corporate
clientele as individuals. Genesis Cars is licenced by Private Carriage
Office (PCO) and Transport for London (TFL).
We strive to excel our customers' expectations in every service that we
provide. We have exceptional customer services, polite drivers and clean
cars to ensure that every journey with Genesis Cars is the perfect journey.
We provide an extensive range of services for general public and corporate
clientele; including minicab/chauffeur driven car services for local and
long distance travel, airport transfers with meet and greet services, event
travel for special occasions and group bookings. We aim to meet the highest
possible standards and we will try our best to accommodate any special
requests.
We provide chauffeur driven cars for Embassy and Diplomat travel, and a
logistics service for UK business account holders. Genesis Cars is reliable,
convenient and customer focused.
Genesis Cars is the first of its kind to offer five different services in
the form of divisions. Each division is set up to the highest possible
standards and we are able to provide a high level of service at a reasonable
price.
1. Division one is a Minicab/Chauffeur driven car service. The Minicab
driven cars are an inexpensive travel option to the general public to
transport customers comfortably yet affordable to their chosen destination.
The Chauffeur driven cars provide the same service as the Minicab but on a
more professional and executive level. Pricing is based on the distance and
time taken for each journey. The pricing is at an attractive and competitive
rate to help penetrate the market and maximize sales.
2. Division two is Business Accounts. Genesis Cars provides Business
Accounts to other businesses to transport members of their staff. When a
business opens a Business Account with Genesis Cars they are given a unique
identification number which they quote to make bookings. Once a booking is
made the Business Account holder will receive email confirmation of their
booking including the driver's name, contact telephone number and car
registration number. The employees' of the Business Account holder do not
pay the driver; Genesis Cars will invoice the Business Account holder. The
driver will be paid when the invoice is paid.
3. Division three is a Logistics service – We will provide a courier service
for business account holders to deliver goods to their chosen destinations,
we will charge based on the weight and size of the goods. We will provide a
standard delivery time of 3 – 5 working days, however, for an additional
charge, customers can request an overnight delivery. All deliveries will be
tractable during the delivery process.
4. Division four will be group and event travel – We will provide
Minicab/Chauffeur driven cars for events such as Weddings, Parties, Special
Occasions and any other event requiring a large number of guest to be
transported. Event travel must be pre-booked and will be quoted based on the
needs of the customer i.e. they may want Minicabs or they may want Chauffeur
driven cars or possibly a special request which we will do our best to
accommodate.
5. Division five will be embassy travel – Genesis cars will provide
Executive Chauffeur driven cars to transport employees of Embassy's and
Diplomats. A business account must be opened; we will act with complete
confidentiality and provide a discreet, high standard service to ensure a
smooth journey
The main Priority Account Benefits are:
. Priority status at all times
. 30 minute pick up anywhere in the M25
. Guaranteed cars even during the busiest periods
. Fixed price journeys, regardless of route or time taken
. Typically 30% cheaper than black taxis on account
. Access to priority telephone booking line
. Online account management system
. Dedicated client services team
. 30 day credit facility
. No need to carry cash
For quotations and prices and which cars we have available please visit our
website, www.genesiscar.co.uk .
If you have any questions or quires, please do not hesitate to contact us.