Posted by admin at 23 March 2015, at 15 : 24 PM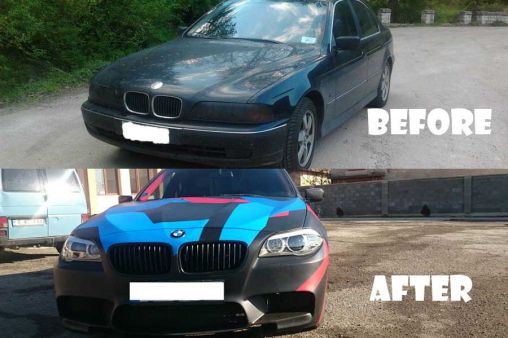 We heard about the Bulgarian company called "Rci Tuning" after there was a video, which shows a BMW E39 model converted into F10 model, released to the internet. The company offers you a solution how you can make your BMW E39 look like F10 model. However, it's just a visual transformation, which is a body kit only. No technical side of the car is touched.
You can get the kit for around $3000-6000 (the price depends on the options – without headlights and paint or with them, etc.). To convert your E39 into F10, you would need to deliver your car to the Bulgarian company and wait a few weeks until the job is done. And if you don't own a BMW E39 already, you can buy a whole car with the kit installed for less than $14,000.
Would you buy such a car? I bet a lot of people wouldn't (including me) but some would, that's for sure. And this is why a lot of people wouldn't buy it: Yes, the car looks good, but it's still just a replica of the real F10 model. Even if it looks like an F10, it will never be like the real F10 is.
Today, we have here a 1996 BMW 5 Series 520i E39 converted into F10 model (the pictures). This car is from Norway and has Norwegian license plates on it (the plates are masked). We're not sure if this car is somehow related to the Bulgarian company or not, because the license plates are from Norway, and the kit is for sale in Norway too — Maybe Norwegians have started their own transformations — They're asking 49,999 Norwegian Krones, which is around $6.2K, for the kit only.
As you can see from the pictures, the car looks great. The exterior is basically the same as the F10 model's is. However, the interior doesn't look like the real F10's interior. The interior in this car is modified, but it still looks old and not modern at all (everything at the front – the steering wheel, etc.), not like the one you can find in the F10 model, that's for sure. The seats and door panels look great, though.