Posted by admin at 20 July 2017, at 21 : 12 PM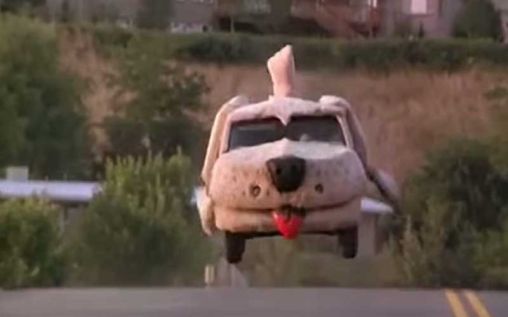 Well, movies where a car was not just a vehicle but a character usually become extremely popular, and while the time goes, those films are better known not just for theirs plot or starring actors but cars! There are lots of famous movie cars, and every one of us can name a few at least. While your friends order essays and other papers from Eduzaurus, let's check out the most famous cars in movie history. We gathered seven cool and trendy vehicles and their history of getting on the rise.
1977 Pontiac Trans Am, Smokey, and the Bandit
Smokey and the Bandit would be on top of our list as one of the oldest but valuable for sure. The movie director Hal Needham picked up a 1977 Pontiac Trans Am without any suggestions how popular this car will become after his famous Smokey and the Bandit movie came out. The impact this muscle car had on the whole USA of that time was huge, and no one could've predicted that.
The model wasn't trendy and had just slight sale indexes for more than a half-decade before the film came out. But after that, Trans Am became a hit! It was everywhere after people saw how cool it looks on the screen and how great it behaves on the road while serving to the justice. Everyone wanted the same black and gold (Starlight Black Special Edition) coloring and absolutely fantastic T-Top roof. Besides that, Trans Am was better, faster, and more stable on the road than the extremely popular Corvette. That popularity caused huge sales growth. During just one year there were sold over 30 thousands of cars.
1981 DeLorean DMC-12, Back to the Future
Well, yes, any top of iconic movie cars can't be full without this legendary vehicle. DeLorean's DMC-12 is the icon of style and a beloved character from the movie everyone loves. The design of John DeLorean's DMC-12 was absolutely fantastic and too innovative for its time to become an everyday spot on the road. But, everyone loved that futuristic look from the very first moment. That stainless steel design was created by famous Giorgetto Giugiaro. Although it promised great speed indexes, the DMC-12 wasn't as fast as its muscle car competitors.
But the magic the movie gave it was enormous. The car was beautiful and reminded us about the future we all were waiting for. The sales didn't go up even after Back To The Future became a popular franchise. DeLorean became a movie celebrity everyone wanted to have but was afraid to own it. These days, new DeLorean company was launched to try to bring the legend back to life.
1973 XB GT Ford Falcon, Mad Max
There are famous cars that got through some upgrade to star in a movie. The Ford Falcon XB GT is one of those vehicles that were modified for the film. Mad Max became a highly popular movie, and cars shot in it played a huge role in its success. The Falcon XB GT was created by Australian branches of Ford. It was brutal and absolutely muscle even before starring in Mad Max. It was nasty and tough that even America never saw a car like this. For Mad Max filmmakers took Falcon's third generation and transformed it into famous "Interceptor." The car became synonymous to aggression with its new look.
The 1967 Shelby GT500 from Gone in 60 Seconds (2000)
Let's get into more modern movies. One of the most famous cars in movies that come to our mind is, of course, the 1967 Shelby GT500 from Gone in 60 Seconds. It was a huge step for an old school muscle to become a star at the time when the world was changing and trying to get rid of everything old right before the millennium. Gone in 60 Seconds was presented in 2000 and showed once again that muscle cars are still relevant and the coolest cars already created. "Eleanor" as it was mentioned in the original Gone in 60 Seconds, and its remake 26 years later, was fantastic and totally nailed it on the new generation big screen.
The Mutts Cutts van from Dumb and Dumber (1994)
Well, famous cars in movies are not just super-fast design-perfection muscle monsters. Such vehicles as The Griswold Family Truckster from National Lampoon's Vacation and The Burger Mobile from Good Burger also have their fans and audience. But the most popular among those silly cars would always be the Mutts Cutts van from Dumb and Dumber and Ghostbusters' The Ecto-1. The first one is a complete mess with all those beer cans, wet dog smells, dirt stains, and two dumb assholes on the front. But, who cares! Don't you want to take a ride in this crazy van with a dog head and tail? Come on!
The Ecto-1 from Ghostbusters (1984)
And the second, not sports car, among movie star rides on our list is the Ecto-1 from Ghostbusters. Do you recognize that crazy annoying alarm signal that a car had? Well, no one can forget it! That 1959 Cadillac became iconic, and till these days it still reminds us of having fun with ghosts.
The Batmobile from Tim Burton's Batman (1989)
Of course, we couldn't miss at least one of all those iconic Batmobiles we got through the years. While Christopher Nolan's Tumbler is noteworthy, Tim Burton's Batmobile is the true icon of style and Batman style design. All those curves of Dark Knight costume, his character, and style should not ride on a tank.