Posted by admin at 26 October 2018, at 22 : 06 PM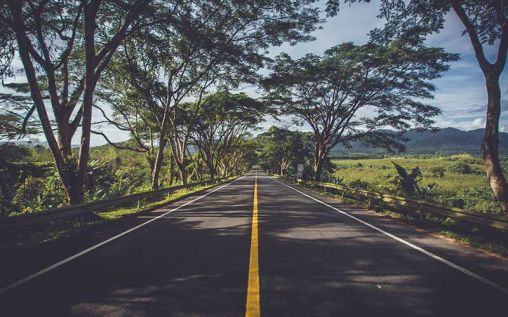 When we plan a vacation, we tend to automatically start looking at flights and all inclusive package details. This makes sense. This is an extremely simple and hassle free way to travel. You can reach your hotel, then kick back and relax by the pool or tan on the beach. But it's important to remember that it's not your only option. There are various other types of getaway out there, as well as other means of getting from A to B. Let's start exploring something a little different by taking a look at road trips. This is the type of vacation where the journey really is as important as the destination!
Why Go On a Road Trip?
Road trips offer a new perspective of the world. When you take a plane, you generally leave an airport near your home, see a few clouds, and then land in your destination. Think of everything you miss along the way! When you go on a road trip, you can take in all sorts of beautiful landscapes and sights that you would never have otherwise experienced! You also gain a profound sense of freedom. If you see something you're interested in along the way, you can easily divert and change your plans.
Choosing a Destination and Route
So, where should you begin when it comes to planning your trip? The logical start point would be to choose a destination and a route to get there. This will be entirely down to personal choice. The world is your oyster! But there are some preferred and renowned routes around the world. Perhaps the most famous for road trips is Route 66. This runs through America. Otherwise known as the "Will Rogers Highway", it traverses around 4000 kilometres of terrain. You will see California, Arizona, New Mexico, Texas, Oklahoma, Kansas, Missouri, and Illinois!
Choosing a Travel Partner
If you are heading on a road trip, you will probably want to find a travel companion. Of course, travelling solo can be extremely liberating and gives you the opportunity to get to know yourself better. But road trips tend to be better with two or more people. This is an intense means of getting about and long periods of time out on the open road can get pretty lonely pretty fast. A travel buddy can keep you company. If possible, choose someone else who can drive too. This means that you can share driving responsibilities and that you can have a little rest from time to time.
Choosing a Vehicle
Next, you're going to have to decide what vehicle you are going to take for the trip. Generally speaking, people avoid using their own, as they will inevitably clock up a whole lot of miles in the process and depreciate the value of your car. Instead, most people will take out a vehicle from a hire company or dealership. If this is your plan, make sure to conduct a thorough check of the vehicle. Point out any existing faults and take photographs of the general condition of the car. This will prevent you from being charged for problems that you didn't cause when you return the set of wheels.
Insurance
Insurance is extremely important whenever you head away from home. Road trips are no different! Here are just a couple of policies that you should take out before heading away!
Travel Insurance
Travel insurance serves multiple purposes. Firstly, they protect you. If you need medical attention while you are away, travel insurance will ensure that your medical bills are all covered. A good policy will also protect your belongings. Cars really aren't the most secure place to store belongings, but when you're on the road, you'll take what you can get. Find a travel insurance policy that will protect belongings stored in a vehicle. If anything is lost, broken, or stolen, you will then be able to have it repaired or replaced.
Vehicle Insurance
Vehicle insurance is a legal necessity. So, make sure you comply with the law of wherever you may be visiting and take out vehicle insurance on whatever vehicle you may be driving. If you hire a vehicle through a company or agency, check that you are insured before getting in the vehicle and driving away.
Have a Lawyer's Number Saved
There are various contacts that you should have saved when going on a road trip. Many people know the basics – they will save the number of the emergency services in the areas they are passing through, they will have loved ones' numbers saved in case they need to get in touch – but a number may people forget to save is that of a competent lawyer. You could experience various issues during your trip. You may have to front the cost of medical bills after an accident. You may come into trouble with the law if you are unfamiliar with particular areas' unique laws. A lawyer will be able to help you get out of sticky situations or claim compensation where necessary.
Safety Tips and Tricks
Let's finish off with some safety tips and tricks for while you are out on the road! These could prove extremely useful along the way!
Pack a Vehicle Safety Kit
It's always best to be prepared for the worst. Even if you have a really reliable vehicle, you can never be one hundred percent certain that you will have a breakdown free ride. If you do breakdown, having a vehicle safety kit on board will help you to get back up and running as soon as possible. Make sure you have a safety warning triangle that can be placed behind your vehicle to alert oncoming traffic to your vehicle's static presence. You should also carry jump leads.
A Physical Map
Nowadays, the majority of us tend to use satellite navigation systems or map apps on our smartphones when we are following directions. These are extremely convenient and efficient. They work out a route on your behalf and some can even alert you to diversions or traffic. They speak directions out loud, so you can keep your eyes on the road, rather than having to pull over. However, it's important to carry a physical map with you at all times too. Why? Digital maps require power and signal, and if they run out of battery mid trip, you can find yourself lost pretty quickly. A tangible map is always a good back up option.
Avoid Hitchhikers
You are likely to see plenty of hitchhikers when carrying out any road trip. But it's important that you do not pick them up. Yes, they may be in a vulnerable position and you might want to help them out. But you do not know who they are or what their intentions may be. When you pick up a hitchhiker, you put yourself in a dangerous position. Avoid picking hitchhikers up at all costs.
Responsible Driving
This one goes without saying, but it's best to refresh your memory. You need to be a responsible driver at all times on the roads. Otherwise you can endanger both yourself and others. If you are feeling tired, pull over in a safe location and take a break. If you are driving on unfamiliar roads, pay extra attention to road signs, road markings, and lanes. Being vigilant can help to keep yourself and others safe.
As you can see, there's a whole lot to bear in mind when it comes to planning a roadtrip. Hopefully, the above information will help you to get behind the wheel as quickly and safely as possible!