Posted by admin at 24 October 2014, at 21 : 28 PM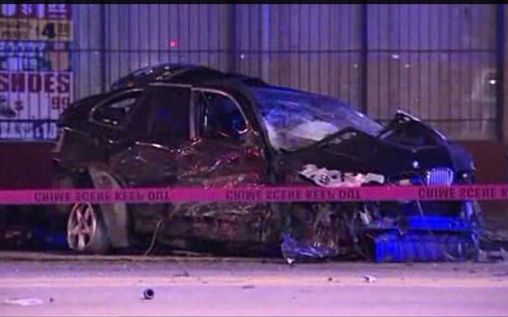 A lethal BMW crash happened a few days ago in Chicago, US. A black BMW SUV hit a police car and then slammed into a building which is a restaurant in the Little Village neighborhood on the West Side. Two men were found dead inside the BMW. A Chicago police sergeant was injured (non-life-threatening) when the BMW hit the police car. No one was injured inside the restaurant.
The BMW SUV is just a total mess after the crash.
According to a witness who saw the whole crash, the BMW was speeding a lot, probably around 100 mph. Immediately after the crash, a lot of police cars came to the scene, and it looked like they were chasing the BMW before the crash.
Later after the crash, two killed people were identified; one was a 21-year-old male and another was a 27-year-old male.
The police car took a big hit – the car looks damaged badly too.
The restaurant took some damage too. Some bricks were missing from the northeast corner and from the north side of the building into which the BMW crashed.
The BMW is damaged so badly that it's hard to tell from the pictures if that's a BMW X6 or X5. However, from one of the pictures you can see its rear and it looks like it's a BMW X5.