Posted by admin at 23 January 2016, at 22 : 32 PM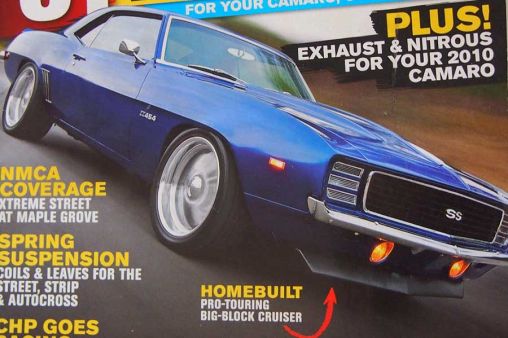 [CLICK-> 1969 Chevy Camaro project car full story [PART-1] is here <-CLICK]
Suspension:
Putting together the suspension was one of my favorite parts besides the engine and stereo. I originally purchased a set of 18″ Bonspeed Deltas as soon as I got the car, but one day I went to the Del Mar Goodguys car show and fell in love with the Budnik Shotguns. The Bonspeeds have been used on a number of cars in magazines recently since I purchased them so I was bummed because I really wanted a fairly unique set of rims. Since I never ended up using the Bonspeeds (and Nitto tires that came on them), and due to inflation, I was actually able to sell them on eBay for as much as I paid for them.
When I received the Budniks, I was exceptionally happy with them, and realized, I made the right choice to switch. Also, I went with a 19″ rims in the back which filled out the rear tires well better. I had the rear wheels custom made to a 9.25″ width for a perfect fit without having to touch my sheet metal, and I also had some custom brushwork done on the accents. That custom work ran up the price a bit. In my humble opinion, 20″ rims look too big on a '69, whereas the 19″ is just right. A '67 or '68 Camaro has a higher wheel arch and 20″ rims look good on them but look a little toy-ish on a '69. Of course, the 19″ size severely limits my options for tires.
Wheels
Budnik Shotgun
Fatlip series, brushed/polished
Front: 18×8 (4.5″ BS), FatLip, $556 each
Rear: 19×10 (5.5″ BS) FatLip, $690 each
Narrow rear wheels to 9.25″, $200 each
Del Mar Car show discount, about -$125 each
Partial Brushed finish, $50 each
Tax
Total for Wheels — $2695
Tires
Front: NT555 Extreme 245/40ZR18 — $341
Rear: NT555 Extreme 275/35ZR19 — $541
Tax — $68
Mounting, Balancing FREE
TOTAL for Wheels and Tires — $3645
Front and Rear Brakes
Front – Baer Track 13″ drilled/slotted/zync — $1636
Complete kit
Stainless Steel front and rear brake lines
CPP Proportioning valve
CPP Master Cylinder
Delco Moraine Brake Booster
Sold brake booster that came with this kit, too large for big block and valve covers — -$150
Rear – Baer Track 13″ drilled/slotted/zync — $1083
Complete kit
Additional Brake Hardware:
Front E-brake Cable – GM Original Part — $30
Parking Brake Cable — $12
Parking Brake Cable Connectors (2) — $5
Rear Axle Lines (Stainless) — $54
Rear Stainless Flex line with T adapter — $53
Chrome 8″ Dual Brake Booster — $210
TOTAL for Brakes — $2934
Front & Rear Suspension
Tubular Upper Control Arms, Global West — $538
Del-a-lum Lower Control Arm Bushings, Global West — $149
Front 2″ Drop Springs, Hotchkis — $129
Front Sway Bar, Hotchkis — $164
Multi-leaf shock plates – 69 L and R — $73
Rear Leaf Spring Kit (1.5″ Drop) with shackles/u-bolts — $328
Rear Sway Bar kit, Hotchkis — $284
Returned Rear Sway Bar Kit, didn't need it according to experts, paid 25% restocking fee — -$216
Koni Classic Front Shocks – (repainted blue) — $206
Koni Classic Rear Shocks – (repainted blue) — $206
Lower Ball Joints (2), Moog — $53
Shipping — $10
Subframe Connectors, Global West — $242
Aluminum body mount bushings, Global West — $86
TOTAL for Suspension — $2252
Steering
Inner Tie Rod ends, Moog — $48
Outer Tie Rod ends, Moog — $54
Adjusting sleave kits(2), Moog — $27
Pitman Arm, Moog — $65
Idler Arm, Moog — $57
AGR 12:1 Power Steering GearBox — $330
Tilt Steering Column – Original GM, includes lock, keys — $395
Power Steering Rag Joint — $34
TOTAL for Steering — $1010
Drivetrain:
The idea behind the drivetrain (excluding the engine) was to build it very solid. Something that would stand up reliably to big block torque and would also be comfortable on the highway. After doing research on both the 700 R4 and 200 4R 4-speed automatic transmissions, I decided to go with the 200 4R because the gear ratios were slightly better. Despite what some people say, a built 200 R4 can be just as strong as a 700 R4, so I bought the best and strongest 200 4R on the market from Bowtie Overdrives.
I coupled that with a very strong torque converter, driveshaft, and 1350 series u-joints. I then bought the best rear differential I could find – a 12-bolt Moser. Of course, Ford 9″ rears are great too, but I wanted to stick with GM parts. I went with 3.42 gears because it couples up nicely with the gear ratios on the 200 4R. I don't have a lot of tires and the ZZ454 will be dumping a lot of low-end torque on those tires off the line, so I don't see how a set of 3.55's or higher in the rear is going to get me anything usable, however, the 3.42's will give me a great final gear ratio for top end and highway driving due to the overdrive.
Of course, a 5 or 6-speed manual would give me even better ratios to work with, but I'm happier with an automatic due to the more consistent launches.
Here's the parts breakdown on the drivetrain (excluding the engine):
Transmission, Torque Converter, and Driveshaft
Tranny: BowTie Overdrives Level 3 200 4R — $2384
Torque Converter: 2600 2004R Extreme Duty
Inspection Cover
Dipstick
TV Cable system, brackets, braided
Speedometer Gear
Energy Suspension Poly Tranny Mount
Lockup kit – 4th gear lockup, brakes unlock
Installer kit
Had to return dipstick and order a longer one/firewall mount — $30
Transmission cooling line kit, hardlines + flexible lines — $141
B&M Plate-type transmission cooler + extra hose — $71
TH 400 Crossmember – GM NOS part – This part never arrived. I got totally scammed by the seller. — $160
TH 400 Crossmember – GM NOS part — $113
New 1310 U-joints for driveshaft, Lakewood — $71
Re-order U-bolts for pinion since I couldn't find them — $20
NOS Big Block engine mounts shifted Engine 1 inch forward. So I had to buy a new one from Inland Empire. At the same time, I realized it would be best to use 1350 series u-joints, so I also had to switch the yoke on the new Moser I just ordered.
New 3.5″ balanced steel driveshaft w/ tranny yoke — $1350
U joints, shipping and tax, from Inland Empire Drivelines — $460
New 1350 Series Pinion yoke for differential, forged steel — $150
TOTAL — $3600
Rearend
Moser 12 bolt complete bolt-in, F-body, Multi-leaf — $2275
3.42 Gears
Eaton Posi
30 splne C-clip Axles
1310 Yoke (to mate with my original driveshaft)
Performance aluminum cover
Shipping to my door ($240)
Longer Axle studs – 1 3/4 inches — $30
TOTAL — $2305
[CLICK-> 1969 Chevy Camaro project car full story [PART-3] is here <-CLICK]