Posted by admin at 17 January 2016, at 21 : 51 PM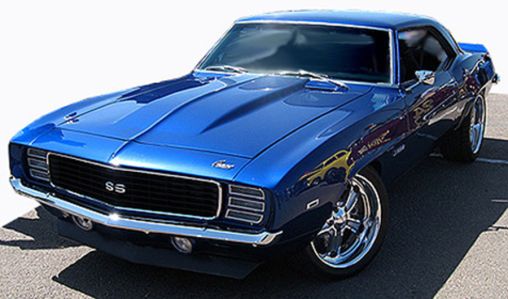 The primary goal of this article is to provide extensive detail on the time, effort, costs, and parts involved in building a 1969 Chevy Camaro project car g-machine/resto-mod. While there are plenty of other, more sophisticated builds than this one, I think this project should serve as a decent example of what a novice can do in his own garage.
The primary goal for this project was to create a unique and special ride that I can drive the hell out of (safely) and enjoy frequently. A car that is different from what everybody else has on the road and something that might actually go up in value over time instead of down like many. Most importantly, I wanted to build it myself and have something that I can one day pass on to my future children and create some sort of legacy. Also, I just love building things so I thought it would be a great hobby and a chance to learn some new skills (body work, electrical, welding, etc). Going into such a large project, I considered the following:
1. At the start of the project, I was single, no children, and worked only 40 hours a week so I had the spare time.
2. I had built several engines and worked on cars in high school and college, worked at an auto parts store, did quite a few custom stereo installs, etc. So I had the automotive background and learning capacity.
3. I have a big 2 car garage.
4. I have enough savings and a good income to tackle the financial requirements.
When I thought about the car I wanted to build, I knew it had to be the following:
1. A '69 Camaro. It's just always been my favorite car since I was in high school. It also has to have the RS front end.
2. A big block. I had 2 Trans Ams when I was in high school and college and they both had big blocks and I just love the low-end torque and the easy power.
3. An all-around performance vehicle with some modern features. Great power, handling, breaking, etc.
4. A unique vehicle with my own personal touches. Good looking but not over-stated or too flashy.
5. Good but moderate stereo system.
6. Very 'drivable'. Definitely not a trailer queen or garage decoration.
A. The exhaust should not be so loud that I can't hear the stereo or talk to the passengers.
B. The engine should not have so much horsepower that it's unfriendly or exceptionally gas guzzling, but still enough horsepower to haul ass.
C. Good gearing for highway driving.
D. Paint and body costs that aren't so ridiculously expensive that I'm too nervous to drive it.
E. Built with high-strength, quality components so it can take hard driving and possible future power-adders.
My initial estimates were that it would take me about a year to finish it and it would cost around $45K to $50K. However, those estimates weren't very accurate (at all!). That's fairly common for car projects so I don't feel too bad about it.
Recent opinions in the car building world state that to do a proper, frame-off restoration of a muscle car takes about 1400 to 1600 hours. I would say that estimate is fairly accurate. I worked on my car about 2 to 3 hours a day, nearly every day, for a little over 2 years. That's an average. Some days I didn't touch it and some Saturdays and Sundays I worked on it all day. So 2 hours a day X 365 days X 2.3 years = 1679 hours. To have worked less on it and reduced the hour total, I would have had to pay people, which of course runs up the cost VERY QUICKLY. It greatly depends on the car you start out with, so if you want to spend less time, fork over some extra money for a nice starting car, or plan on paying $30 to $60 an hour (or more) to have someone do the work for you.
Here's my breakdown on Time and Effort:
20% – Stripping/cleaning/sanding of body, parts, frame, engine bay, and every side of every piece of metal.
30% – Bodywork. Here is where you'll find the most variation between people's projects depending on the car they started with. Mine wasn't too bad as all my original body panels lined up pretty good to start with, but it was still an exceptionally time-consuming task to get everything right.
35% – Construction (fabricating, fitting, building, painting, wiring, etc) – The fun part!
15% – Research, purchasing, driving to pickup or locate parts.
As you can see, only about 1/3 of my time was spent actually putting something together. That was a little disappointing because that's the fun part, but so much of time was instead spent doing the grunt work. Had I known that, would I have started the project? Hmmm…
A lot of people out there will list the major parts they used to build their car, but I'd like to take it a bit further. In this section you will find every single part (big or small) I used to build the car, where I got it from, the part number, how much I paid, and my opinion on the fitment and quality of the part. It's my hope that this section proves to be a great resource for those of you using similar high-performance parts or building a First Generation Camaro.
Base Car Purchase:
The selection of a base car was critical in determining how difficult the project would be. In short, I wanted a car that:
1. Had as much original metal as possible but not the original engine (don't want to ruin an original car). Original metal just seems to fit better and is typically a heavier gauge of metal.
2. Had little to no rust and as little bondo as possible.
3. Had never been wrecked or had major repairs.
4. Was nearby (California) so my shipping costs wouldn't be too bad.
Those were my only requirements. I didn't care at all about the electrical, interior, engine, drivetrain, or anything else because all that would be replaced. I just wanted a solid, straight, rust-free body so as to avoid heavy bodywork and labor costs.
I purchased my base car on eBay in May of 2006 for $17200. The seller had a decent track record so I trusted his description of the car, and he provided plenty of photos. I actually got the seller to end the auction early with a decent offer. I sent the guy a cashier's check for the total without ever meeting him or seeing the car. Making him an offer to end the auction early turned out to be a great idea, because he forgot to end the auction after he received my payment and other people bid the car up to $18200 with a day to go! It took about a week to get the car down to San Diego from San Francisco. Needless to say, I was very anxious to see the condition of the car that I now owned. The next morning, I made the following assessment:
1. All original except the cowl hood.
2. Surface rust in trunk pan, forward parts of floor pans, and some areas of the underside of the roof but all easily repairable. A few other minor spots on the doors. A major spot on the lower portions of both fenders. Will need metal replaced there.
3. Some small bondo repairs to various parts of the car but very minor (ding repairs).
4. Patch panel installed to left quarter panel with major body work done (although done well).
5. Rear tail panel needs some work.
6. Front header panel needs replacing.
Overall, I was a little disappointed. It was not as great as I had hoped for, but at the same time, it could have been worse I guess. There are always surprises when you buy cars like this, so I kinda prepared myself for it. The great news was that the car was very straight, the panel fitment was already good, and most of the body work that had been done was done well. The interior and mechanical condition of the car was decent, enough so that I was able to sell the following items that I wouldn't need to lower the actual cost of the base car.
Sold Items:
350 Chevy Engine and all accessories — $550
Flowmaster mufflers and 3″ exhaust(ended at axle) — $105
8.2″ 10-bolt rearend and leaf springs — $30
Dash clock — $180
Original front Seats — $300
original fuel gauge and speedo — $60
Holley 600 carburetor — $105
Original driveshaft — $135
Headers — $50
Original Shifter — $60
Upper A Arms — $25
Shock Plates — $40
Steering Column — $30
Original Wiring — $50
SS Grille — $20
SS Headlight Components — $20
Original Transmission cooling lines — $50
TOTAL — -$1810
So the actual cost of my base car ended up being about $15400 if you subtract the parts I sold. Yes, I could have paid less, but I only need to replace one panel (the header panel), have a lot of other great original parts to work with and do not need to do much body work. So, all-in-all, not too bad for getting off to a decent rolling start. Also, it's an original '69 Camaro, not a COPY (Dynacorn) of '69 Camaro that must be titled as a 2008 Camaro.
[CLICK-> 1969 Chevy Camaro project car full story [PART-2] is here <-CLICK]