Posted by admin at 20 May 2015, at 21 : 36 PM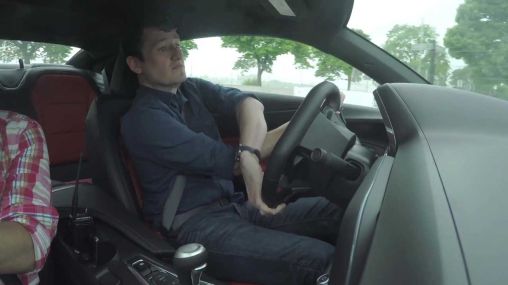 Patrick George, a journalist who was driving a new V6 2016 Chevrolet Camaro mule during a media event, crashed after losing control of the Camaro and was promptly kicked out. It was the very first 2016 Camaro crash. The journalist sure had bad luck that day.
The crash happened a day before the vehicle's official unveiling in Detroit.
And this is what Patrick George said after the crash:
"When the crash happened, I was the second Camaro mule in a train of cars following a lead driver in a Z/28. But as I came up on one corner, I made a mistake, took a line that was all wrong and braked far later than I should have, inducing terminal understeer."
"I think that's what happened, at least. It happened very quickly, and adrenaline has a way of mucking with your memory. I probably wasn't as focused as I could have been, since I was trying to talk and record my driving impressions into a GoPro at the time."
"The wreck felt pretty mild on my body, but after I got the car off the course a paramedic checked me out as a precaution. After that, and some profuse apologies on my part, a GM rep told me to leave Belle Isle."
"A lot of people didn't want me there anyway, I was told, and that this crash was essentially the straw that broke the camel's back. The drive continued without me and down one Camaro mule."
As we can see from the video at the bottom of this article and the pictures, the Camaro isn't damaged badly. To me, it looks like a small damage. However, not the damage is important now but the actual accident. And sure it was a crappy accident on a day like that.
Check out the footage below: