Posted by admin at 1 May 2015, at 17 : 28 PM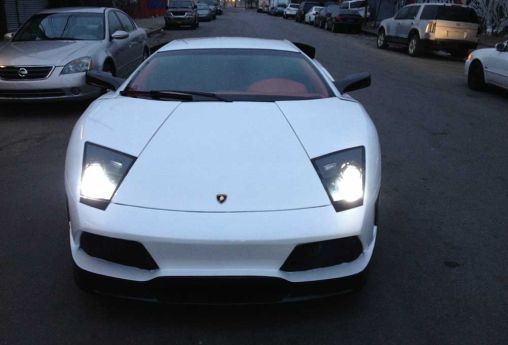 Less than a few days ago, a Lamborghini Murcielago replica built on a 1995 Chevy Camaro Z28 was sold on Ebay for less than $30K (US $28,750.00) in New York, United States.
As the seller claimed, the Lamborghini was sold because of his wife…she was too jealous according to him — Well, that's probably a good reason to sell a car, right?
Ok, I am not really a big fan of replicas, but I have to admit that the Lambo looks quite decent. Of course, the interior doesn't look too nice (looks very empty), but the exterior is really well made.
The Lambo not just looks great, but it also was built on a right car, which is a 1995 Chevy Camaro Z28 with a V8 engine. Maybe the replica isn't fast like the real Lamborghini Murcielago is, but for less than $30K, it's a good deal.
Again, I'm not a big fan of replicas anyways, and I wouldn't spend money on such a car. However, I wouldn't mind to take a car like this for a quick spin.
Here's some more information about the replica (features):
Exterior
* All fender liners and front are done in metal, bolt to the frame from the kit to the chassis.
* All bulbs are led.
* Hid 8000k angel eyes, low Beam.
* 4 digital ballast.
* Led turning signal light.
* Electrical driver side mirror.
* 4 new rotors.
* 4 new pairs of brakes.
* 2 new shocks.
* 2 new springs.
* New rims – Front: 18×9.5. Rear: 19×20.
* Rear sensors
And more…
Interior
* Door popper that opens with a remote just a few feet away from the car.
* A/C and hater works.
* Electrical windows.
So, a 2010 Lamborghini Murcielago LP640 replica with less than 80,000 miles on the donor car, has V8 engine under the hood, looks great, is in good condition, bought for less than $30K – Good deal or not really, what do you think?