Posted by admin at 30 May 2015, at 22 : 03 PM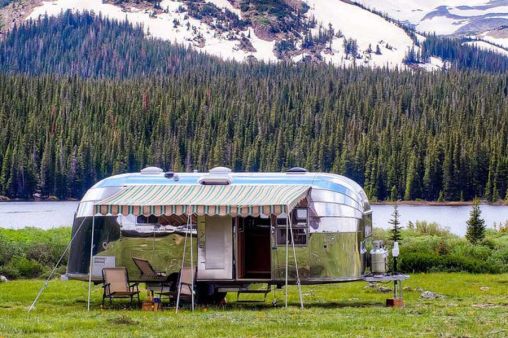 If you are ready for adventure on the road, an Airstream trailer is the way to go. These sleek trailers are built for easy towing with their rounded, streamlined shape, making wind resistance minimized. You will have little difficulty traveling with this trailer. On the outside, the look is very much the same classic look that the Airstream trailer has always had. You will be reminded of adventure traveling of the 40s and 50s. Inside, the retro look is carried through but with many modern conveniences unheard of in the trailer's early days. One characteristic that an Airstream has always had is of understated luxury on the road.
If you think your only options in an Airstream are different lengths, you would be mistaken. Each line has its own special features and layouts with a few models to choose from in most of them. Amenities are another area where there is a lot of choice too. Your Airstream trailer can be outfitted with just the bare necessities or equipped with all the comforts of home, making it a luxurious way to travel. You could live comfortably in your trailer year round if you wished, and some people do.
The various lines offered are Basecamp, DWR, Safari, Classic Limited, and International. The Basecamp and DWR are basic models designed to be lightweight for easy towing, and for people who are more into 'roughing it'. The Basecamp is like a tent trailer and has both a retro and futuristic look at the same time. The DWR is designed for those who like to just hitch up and go. It is small, easy to tow and meant to be affordable for more people. DWR stands for Design Within Reach. A very apt name for this little beauty that is reminiscent of its bigger relatives.
The Safari line has proven to be the most popular trailer. It has three models to choose from, so finding the right one for you is easy. The different models include the Safari, the Safari SE, and the new Safari Sport. The Safari and the Safari SE each come in lengths from 19 feet to 28 feet and has a variety of floor plans to choose from. The Safari Sport is designed to be more affordable and comes in two lengths; 17 feet and 22 feet.
The Classic limited model comes in lengths from 25 feet to 34 feet and also has a variety of floor plans. This model is almost like having a silver mansion on wheels. The International line has two models; the CCD Signature series and the Ocean Breeze. Both are available in lengths from 16 feet to 28 feet with a variety of floor plans.
Whether you are a 'snowbird' wintering in the warmer climes of the Southwest or like to spend your summer vacation time adventuring on the road, the Airstream trailer is great for all your needs and wants. The Airstream trailer is so popular that there are clubs just for its owners. So join them and have the sleekest, retro trailer with the best quality and comfort you can get.