Posted by admin at 1 June 2015, at 19 : 27 PM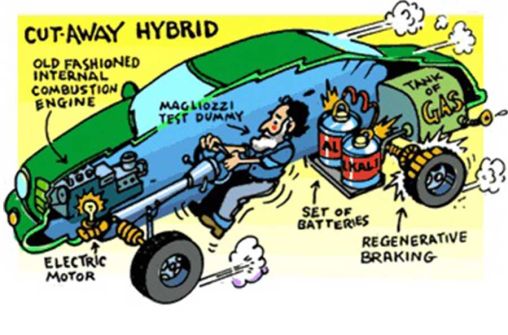 More than a few years ago, just the idea of hybrid cars comparison seemed laughable, because there was the Toyota Prius and the Toyota Prius. Oh and yeah, the little bizarre looking Honda Insight, popular among IT geeks. Basically, there was no real choice and if you wanted a hybrid, something had to give. And by something we mean everything – comfort, luxury, space, driving pleasure, and you either had to buy a Honda Insight or Toyota Prius.
Well, at least that has changed. Now, car shoppers can choose between SUV hybrids, luxury send hybrid, Hybrid Trucks, and sports cars. Now, the idea of hybrid car comparison is not that strange, there are a lot of models to choose from, so shoppers need to know which one offers the best overall value. Hybrids are now in the center of media attention, and everyone seems to be discussing the hybrid models more than regular ones. Cars like the Ford Escape Hybrid and Honda Civic Hybrid are quickly drawing the attention.
If you compare the Ford Escape with a Toyota Prius, you will almost be funny. The Ford offers much more space, it's an SUV after all and it also gives you more power along with a more traditional design. The MSRP Price Range of Ford Escape Hybrid is $25,655 – $27,260. The price of Toyota Prius Touring is $23,220 MSRP. So we are talking about almost the same price tag, but it seems that the Ford Escape is a much better choice.
Of course, hybrid car comparison involves the meaning of the word "value". Value means different things for different people. Nevertheless, there are few universal qualities that serve as a baseline for all things to value. In the auto-industry, the word value stands for well designed and constructed vehicle, price right, and capable of doing what it's supposed to. For example, if it's an SUV, it should provide plenty of cargo/passenger space, on a sliding scale with fuel economy.
Then comes the hybrid factor. Hybrids are supposed to go further with less fuel, and while in the beginning people didn't expect hybrids to offer the best drivability, things have changed now. According to different surveys, potential hybrid buyers don't feel they should give up on anything when they get a hybrid vehicle.
The Toyota Prius with the basic price of $20,875 is the most affordable and most pure practical hybrid on the market. Standard equipment includes fabric upholstery, along with power windows, door locks and heated outside mirrors.
The Ford Escape Hybrid is, at least in the author's opinion, the better choice overall. Standard equipment is the same as that of a regular Escape, including four-wheel antilock brakes, cruise control, carpeted floor mats, front dual vanity mirrors, and rear heating ducts.