Posted by admin at 1 March 2014, at 23 : 13 PM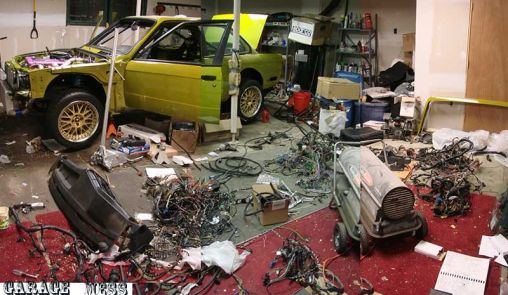 Is there anything better than an organized garage? Looking for tips on how to organize a garage?
Imagine pressing the button on your automatic garage door opener and easily driving your car into a neat and tidy parking spot.
Your garage walls have properly stored bicycles, garden tools and sports equipment. Oh my, a small bit of Heaven!
Tips and ideas on How To Organize Your or Any Garage
As in most worthwhile things in life, organizing your garage space revolves around having a solid plan and a solid system (i.e. tool storage devices, garage bicycle storage) to let your plan play out.
Here are a few garage organization tips and ideas:
Online Garage Organization Tools – I stared searching for online garage organization tools to come up with some creative ways on how to organize a garage, but most of them didn't work well. The best one I found was by Gladiator Garageworks. It's still a little difficult to use, but it is better than anything else I have found.
The one caveat I will bring up is that each garage organizing design tool you look at is focused on the products that vendors sell. I think using a design service is a good idea, but I would suggest that you take some time and use a pencil and paper and scratch out a rough design, before trying to use design tools.
Organize Your Garage With A Goal In Mind – Before you can learn how to organize a Garage, you need to think about what you want the most and design your garage organization from that need.
Are you wanting to make room so you can finally park your car in your garage? Would you really like your garage to become a wood crafting workshop? Do you need your children's toys and sports gear to be accessible but off the ground?
Designate Areas of your garage: Store common or seasonal items together. You can designate an area of your garage for camping and outdoor items; have a different section for lawn and garden tools while a separate part stores automotive supplies or your garage bike racks.
Use Garage Shelving Systems on Your Walls: Shelves, cabinets and racks store things off the floor and eliminate clutter. Your garage walls are an abundance of storage space.
Use Your Ceiling for garage overhead storage: Overhead storage is terrific for occasionally used or seasonal items such as holiday decor and suitcases. You can get overhead storage systems that are bolted to the ceiling or that effortlessly raise and lower with a simple pulley.
Pull Out Your Permanent Marker: When stowing a box add a label to the containers. It just takes a minute yet could save you a ton of time and aggravation later.
Once you learn how to organize a garage space, you will get organized fast and stay organized effortlessly.