Posted by admin at 13 February 2014, at 21 : 54 PM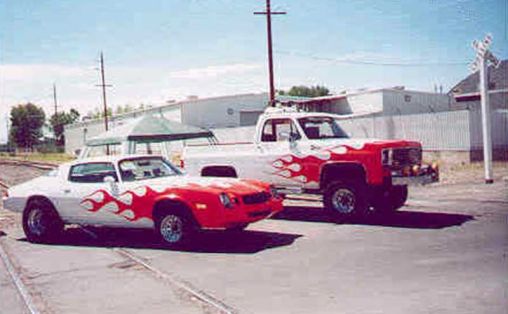 We built the 1978 Chevrolet Camaro drag car in 1991 and raced until 1994. It was originally painted in an Ugly Burgandy color after its completion and was named "Wiley's Revenge". Times were tough in the beginning with ET's in the low 14's at 4000 feet ASL, but with a lot of aftermarket parts and a very empty pocket, it has obtained ET's in the high 12's at over 100 MPH. The picture above is the Camaro sitting with its Support/Tow Vehicle, "Fireball" the 1978 Chevy Blazer.
In June of 2000, I decided to bring it out of storage, apply many hours of cleanup, bug killing, mouse evicting, retuning, repainting, and get back into racing at our local drag strip; Top Gun Raceway.
The picture above shows the Boyce's annual Stoplight drags. This was an event where the city closes a street and local cars as well as full drag counterparts can tear up a 150 foot chunk of city asphalt.
The 150 foot heads up drag isn't the tricky part, it's stopping after the 150 before you hit the barrier rails at the end of the street.
Here is what we originally built the 1978 Chevrolet Camaro drag car into in 1991.
A lot has changed both at Top Gun Raceway and with the car. We like the current appearance a whole lot better, and we believe the car does too with consistant 13.02's being pumped out at most races at 4000 feet above sea level.
The 1978 Chevrolet Camaro drag car Specs:
Engine
Engine Block: 350 ci Chevrolet 4bolt main, .030 bore.
Heads: Dart Sportsman II, 64cc, 215cc int.runner,2.05 int/1.60 exh.
Crank: Cast stock, all standard size.
Cam: Comp Cams.
Duration (int): 285`. Duration (exh): 295`.
Lift (int): .530″. Lift (exh): .555″.
RPM range: 3500 to 6500.
Rods: Pro Line (steel).
Pistons: Keith Black Hypertechnic 11.0:1.
Valve train: Comp cams solid lifters & Crane Pushrods. Miloden guide plates & Harlen Sharp roller rockers.
Intake: Edelbrock Victor Jr. Carburetor: Holley 850 4150HP.
Ignition
Distributor: Mallory Unilite.
Coil: Accel Supercoil.
Wires: Accel SuperStock Solid Core.
Transmission
Transmission: Chevrolet TurboHydramatic 350.
Converter: Shift Management 8″, 3500 stall.
Tranny Mods: B&M Transkit.
Rearend
Rearend: 10 bolt Chevrolet, 4.56:1, spool, C-clip eliminators.
Suspension
Rearend: Stock Leaf springs, with Koni Drag shocks, & Lakewood Traction bars.
Front: Moroso Racing springs, Koni Drag shocks.
Chassis
Stock Chassis with Subframe connectors, 8point roll bar. Front bumper, and door bars as well as complete interior and stock wiring removed, plus saved weight anywhere else it could be removed.
Tires
Front: 24.5/4.5-15 Mickey Thompson ET Fronts.
Rear: 29.5/10.5-15 Mickey Thompson ET Drags.