Posted by admin at 19 January 2013, at 15 : 40 PM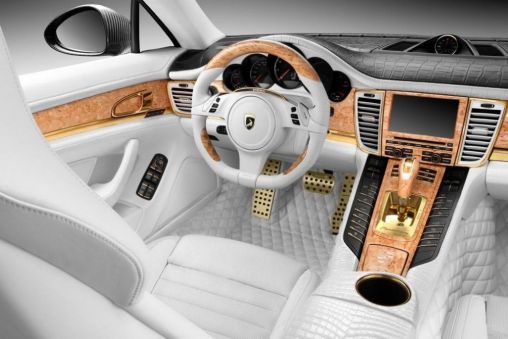 This new Porsche Panamera is a little bit different than the rest models of this car. The interior of this car has been made of real gold and crocodile leather. That makes this car not just so unique because of the looks, but also, it makes this car a really expensive modern sports car. The whole interior was fully redesigned, its panels are made of Karelian birch wood trim material. The cabin of this car is outfitted with premium leather seats and authentic crocodile leather on the dashboard.
The exterior of this car has been equipped with a Stingray GTR body kit which includes a new bulging hood, new bumpers, modified doors, and widened fenders. Also, it has a very nice black exterior color which fits the car very nicely. The car is fitted with ADV.1 wheels and with ultra-thin discs.
The Stingray GTR has a 4.8-liter V8 engine which produces 600 hp (441 kW) and can accelerate from 0 to 100 km/h or ~0-60 mph in just 3.3 seconds. That is very impressive numbers for a 4 door sedan. Besides all this, the GTR Stingray is limited to only 25 units around the globe, and that makes the car really a rare car. It comes with a 7-speed automatic transmission. Top speed is 306 km/h (190 mph).
The 2012 Porsche Panamera Turbo S Stingray GTR was priced little over 567,000 USD ($) which is equal to little over 425,000 EUR. All the improvements of the car are priced for more than 205,000 USD ($) which is almost equal to 154,000 EUR.
Check out a gallery and all the images of it, at the top of this article, and see how good the interior of this car looks, and how good this car looks from the outside too.