Posted by admin at 23 March 2013, at 17 : 17 PM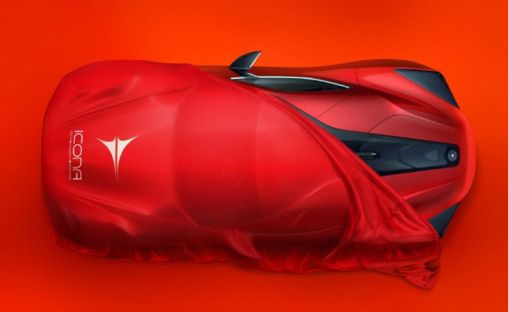 This new, mysterious concept model makes its debut at the 2013 Shanghai Auto Show which starts on 21 April 2013 at Shanghai New International Expo Center in Shanghai, China.
The new model joins the league of the 2014 Lamborghini Veneno and 2014 Ferrari LaFerrari — both made their debuts at the 2013 Geneva Motor Show not long time ago.
The 2013 Icona Vulcano is still a mystery to the public, because nothing much has been revealed about this exciting new model. At this point, all we know that the new model will be powered with a V12 engine which produces 900 hp (662 kW). The acceleration from 0 to 200 km/h or ~0-120 mph could be achieved in less than 10 seconds. This might be not that fast as the 2014 LaFerrari with its brutal acceleration in less than 7 seconds for 0-200 km/h (~0-120 mph) speed, but sure Icona's time is pretty impressive, and it's better than a lot of supercars out there. While the top speed is not that far away from the LaFerrari, the 2013 Icona can reach a top speed of 350 km/h or 217 mph. Not sure about the 0-100 km/h or ~0-60 mph acceleration time, but it probably should be less than 4 seconds. I doubt it could do that in less than 3 seconds, because normally if a car can do 0-200 km/h not in less than 8 seconds, it won't reach that kind of speed in less than 3 seconds as well.
The design was first introduced on the Icona Fuselage concept in 2011 by Samuel Chuffart which is the director of the Icona's design. We should expect a great looking modern design. The approach of the design is to express the amazing capabilities of this extremely powerful car, while maintaining harmonious and generous shapes of the car.
The creator of this exciting new model is Claudio Lombardi which is a mastermind of numerous world champion cars and a former powertrain technical director of the Ferrari. He also was the powertrain technical director of the Ferrari for Formula 1 and GT cars from 1991 to 2000. He was the director of Lancia when they won seven World Rally Championships with Delta S4 and 037 Rally from 1982 to 1991. And these are just a few achievements to his name. This also means that we can expect a lot from this new model, because professionals do it in a good way always.
At this particular time, that's all available news. Nothing else has been revealed yet, and no more official news is available at the moment. Maybe some more news will be leaked until the 2013 Shanghai Auto Show, if not, the only thing left is to wait until the Auto Show starts, and more news will be available.