Posted by admin at 4 February 2013, at 14 : 28 PM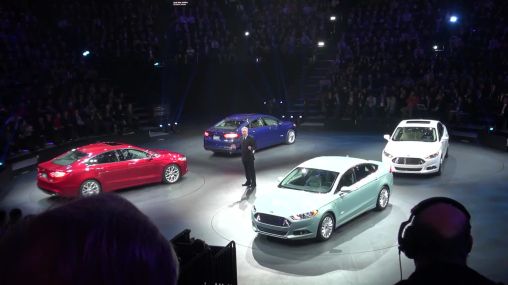 The 2013 North American International Auto Show (NAIAS) has shown a lot of great new cars. The show was available for public for almost two weeks, and everyone had plenty of time to visit it. It was a great show as in every year. New modern generation cars were available in person, and it was a great experience for every car fan.
In total, there were almost 800,000 people who visited this auto show this year, and they brought almost 365,000,000 USD (365 million dollars) to Detroit. Also, in total, 59 vehicles made their debuts at the 25th North American International Auto Show. 50 vehicles were worldwide and 9 North American.
Below, you can see a list of some of the cars from that show. The list is not full, it means there were more cars out there, but we're going to show some of the best random picked cars, and the rest of the cars will be available soon. Great new modern car concepts are available too and all are in HD 720p & 1080p.
2014 Chevrolet Corvette C7 Stingray 6.2-liter V8 450 hp (331 kW)
2014 Infiniti Q50 Luxury Sports Sedan 3.7-liter V6 328 hp (241 kW)
2013 Range Rover 5.0-liter supercharged V8 510 hp (375 kW)
2013 Ford Fusion Hybrid 2.0-liter I4 188 hp (138 kW)
2014 BMW Concept 4 Series Coupe at 2013 NAIAS
2015 Acura NSX Concept 3.7-liter DOHC 24-valve V6 480 hp (353 kW)
2014 Cadillac ELR 1.4-liter 207 hp (152 kW) 295 lbs-ft of torque
2013 Dodge Ram 1500 3.6-liter V6 305 hp (224 kW) 269 lbs-ft of torque
2014 Jeep Grand Cherokee Limited 3.0-liter V6 240 hp (177 kW) 420 lbs-ft of torque
2014 Jeep Grand Cherokee Summit Luxurious Car 8-speed automatic transmission
2013 Hyundai HCD-14 Genesis Concept 5.0-liter V8 next-generation sedan
2013 SRT Viper 8.4-liter V10 640 hp 471 (kW) 600 lbs-ft of torque 6-speed manual transmission
As you can see above, a lot of very nice looking cars were available at that auto show. Well, if you wanted to visit it, but you couldn't do it this year, you might can do it next year. The 2014 North American International Auto Show (NAIAS) will bring even more newest modern car models & concepts, and we are sure that it will be as good as this year's show or even better.
The 2013 Chicago Auto Show is on its way. Doors will be open in February 7th, 2013. Visit it if you can, you won't be disappointed. Also, the 2013 Canadian International Auto Show will start in less than a few weeks from now, so you might want to think about it too. That show starts in February 15th, 2013, and it will be held at Metro Toronto Convention Centre and Rogers Centre in Toronto, Canada.
We will inform you about the next upcoming auto shows in 2013, so keep checking back. In the mean time, you can also find a complete calendar of the upcoming 2013 auto shows, just browse a few pages back in the "car news & articles" category, and you will find it easily.