Posted by admin at 27 September 2013, at 22 : 28 PM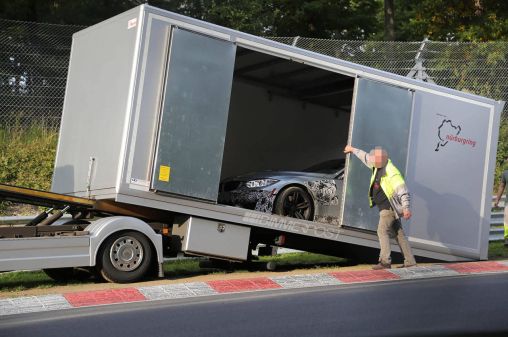 Just a few days ago, the official power specifications of the 2014 BMW M3 & 2014 BMW M4 were released to the public. One day later after that, the very first crash occurred with the new 2014 BMW M3 Prototype. A test driver was testing the new M3 Prototype on the Nurburgring racing track before he slammed the car into the right-hand side crash barrier.
Only the driver should know why this crash happened, or maybe BMW has a few driving dynamics to refine. Maybe it was just a fault of the test driver, and he maybe made a mistake and crashed this new M3. We don't know why this really happened, and I guess it won't be available to public anyways.
The car is damaged but not too badly. The right-front of the new prototype has some small damage. A windshield is broken on the right side as well. It seems no other damage was done to the car. As we know, the driver is fine too.
Well, this was kind of embarrassing for the driver, and it might be kind of embarrassing for BMW, because their very first prototype of the new M3 was damaged like that, especially that it happened on the famous Nurburgring racing track.
Let's just hope that this won't happen again. Most BMW fans are so excited about the new 2014 BMW M3 & 2014 BMW M4 models, and we can't wait until they are released. We already know some power specifications, and it looks promising. We already know that each car will have the 3.0-liter twin-turbocharged inline-six engine under the hood. Each car will produce up to 424 hp and 369 lbs-ft of torque.
Currently, we don't have any information about how fast these two models can accelerate from 0 to 100 km/h or ~0-60 mph, because no such information is available yet. We hope that soon, the BMW is going to reveal all this information. As for now, that's all we have at the moment. 🙂