Posted by admin at 14 January 2013, at 22 : 48 PM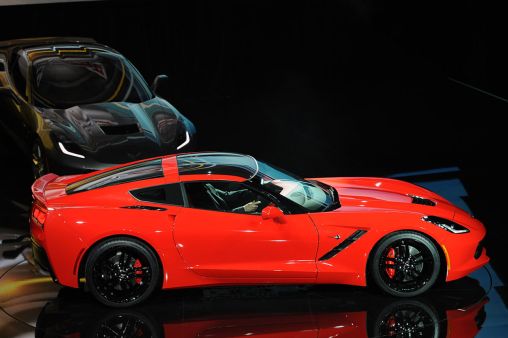 At the 2013 Detroit motor show, the seventh-generation 2014 Chevrolet Corvette Stingray is a homegrown star. Its performance and the price have been revealed, so let's take a look at what it offers for us, and how much it will cost.
The new Corvette will be powered with a 6.2-liter V8 engine which produces 450 bhp (331 kW). Also, it will be the most powerful standard version of the "Vette ever in its sixty-year history". Besides that, it will be also the most advanced with technology.
The car will have a 7-speed manual gearbox, and it should reach 0-100 km/h or ~0-60 mph in less than 4.0 seconds. This time hasn't been officially revealed yet, but insiders have said that this time for 0-60 is expected.
Drive Mode Selector will be available with 5 distinct driving modes in the new Chevrolet model: Eco, Track, Sport, Weather, and Tour. This selector also controls and changes 12 different attributes, including steering feel, traction control system, and the throttle response.
The new model also will be with a famous weight distribution of 50/50 and greatly improved high-speed ability. Also, big improvements will be offered to the steering through a variable electric power steering system, and it will be 5 times stiffer than the system fitted to the C6 model.
The interior will be the most premium and sophisticated ever in a Corvette. Its seats will be with a magnesium frame for reduced weight and a greater strength.
A Z51 performance package will be available for this car. This new package will include an electronic limited-slip differential, third-generation of magnetic ride control, improved cooling, and bespoke aero package.
The price of this new 2014 Chevrolet Corvette will be less than 80,000 USD ($). No official price has been released yet, but it will be definitely less than this one. The Owners have also mentioned that people who can afford to buy the previous versions of Corvette, they can afford to buy this new model too.
Don't forget to check out the images from the gallery above.