Posted by admin at 13 February 2013, at 19 : 02 PM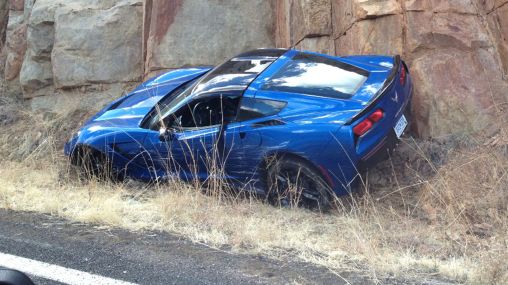 This gorgeous, blue 2014 Chevrolet Corvette Stingray C7 2 door coupe just crashed while driving on a public road. This is the very first crash accident which involves the new Corvette.
No official news what really happened, but we all probably can understand that this happened because of speeding too much. Knowing that the car has a rear-wheel drive system, it's obvious that it's not that hard to lose control of the car, especially if you push it too hard.
What we do know is that this Corvette is actually wrecked even worse than it looks from the pics. Not sure about all the damage, but can guarantee it will cost a lot to repair this car. Such a shame that the crash happened so soon, especially for a beautiful modern next-generation sports car like this one. Doesn't matter a fact, most of the dealers don't have this car for sale yet. Its sales are just starting, and it's not available for sale in many countries. Lucky who's already got it.
As you can see from the pics below, it's the same corvette spotted on public roads some time ago.
The car was spotted on Arizona's public roads and in the parking lot by two other Corvettes. The original photo of the wrecked Corvette was published on the internet by a friend of the crashed Corvette owner. He said that his friend sent him the photo and told him that he hit with his car's guardrail on the left and bounced back to the rocks.
We don't know who was the real driver of the Vette, but it could be Jim Mero, one of the GM test drivers. We saw him getting out of the blue Corvette just a few weeks ago from a video that showed 3 C7 Corvette Stingrays working out in Arizona. No guarantees that he crashed, but who knows, it might be him. Hopefully, everyone involved in the accident are okay. Also, no official news when exactly this happened, because the guy who originally published the image on the internet said that his friend sent that pic a few weeks ago. All we can do is to keep guessing when exactly he crashed it.
Let's just hope that such an accident won't happen any time soon again. It would be a shame to see another beautiful Stingray C7 crashed like this one did.