Posted by admin at 6 March 2013, at 00 : 05 AM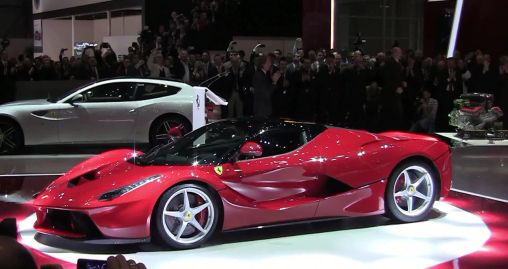 The new 2014 Ferrari was revealed at the new 2013 Geneva Motor Show. Currently, it's the most advanced and fastest Ferrari ever. The new hybrid Ferrari made its debut just today, and sure it's a very promising and very hot upcoming model as well. You will understand pretty soon why it is like that.
It is powered by a 6.3-liter V12 engine. The Aspirated engine coupled with a 163-hp electric motor together produces 963 hp (708 kW) at 9250 rpm and torque of 664 lbs-ft (899 Nm). The car can accelerate from 0 to 100 km/h or ~0-60 mph in less than 3 seconds. It can reach 0-200 km/h or ~0-120 mph speed in less than 7 seconds. Top speed is 370 km/h (230 mph). It has more power than the Porsche 918 and the McLaren P1.
On the company's test track in Fiorano, this new Ferrari made the fastest lap so far in less than 1 minute and 20 seconds. This time is better by 5 seconds compared to the F70 Enzo model and 3 seconds better than the F12 Berlinetta. These numbers just prove again that this new Ferrari is the fastest one of all Ferrari models. The F12 Berlinetta was Ferrari's the most powerful and fastest model ever with an engine which produces more than 740 hp and 509 lbs-ft of torque. But it's all over now, because a bigger beast has been released to the world, and it's the number one when it comes to the rankings of the fastest one.
Ferrari hasn't revealed the official price of the LaFerrari yet, but sources have reported that the pre-tax starting price will be at around 1,310,000 USD (1.31 million $). Since Enzo's price will start from around 1,580,000 USD (1.58 million $), it means the LaFerrari model will be not just a faster model but also cheaper too. In total there will be 499 units built of the LaFerrari, and it is 100 units more than the Enzo models.
The new model comes with a seven-speed automated-manual transaxle transmission. Wheels with a Pirelli P-Zero tires at the front 265/30 R19, and at the rear 345/30 R20. A rear-wheel drive system as usual. The wheelbase is 2650 mm (104 inches) long. Length is 4702 mm (185 inches). Width is 1992 mm (78 inches). Height is 1116 mm (44 inches).
As you can see from the stats above, the car is ridiculously fast and powerful. This is definitely one of the top upcoming models of 2014.
More news we can get about this car in the near future, and for now, it's all news we have at the moment.