Posted by admin at 19 November 2014, at 23 : 22 PM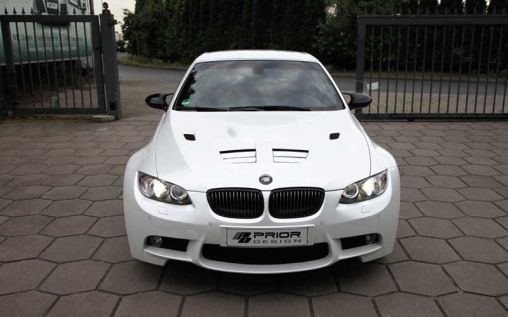 In 2013, Prior Design released a mild version of a wide bodied BMW 3-Series that gave them a more sporty look. Well, Prior Design has gone over-board this time with an all new AWESOME Wide body Kit for the BMW M3 E92.
Starting from scratch, the BMW M3 E92 Wide Body Kit from Prior-Design features an aggressive front bumper with huge inlets for proper cooling. There is also a light weight hood featuring more vents to increase air flow — This aftermarket hood has the look of the GT2 track car.
Side skirts make the Prior-Design BMW E92 look lower to the ground. There are huge wide body fender bulges at the front and rear which give the car a mean look. Centemeters were added, which means you can now run a wider tire.
Adding to the BMW E92 body kit, Prior-Design added an awesome rear wing spoiler and a roof spoiler. Both of these can be had in a carbon fiber finish too. The rear bumper features a function diffuser. The custom rear bumper fits both stock and aftermarket exhaust systems with ease.
Besides the body kit, Prior-Design has a sweet stainless steel exhaust system for the BMW M3. They also have a KW Coilover suspension that is pretty trick.
Prices for the BMW M3 E92 Wide Body Kit are as follows:
Wide body body kit: $4600
Hood: $2150
Rear spoiler: $500
Roof Spoiler: $500
Front spoiler lip: $700
M3-Style Exhaust: $2321
The BMW E92 M3 Wide Body kit by Prior-Design will put fear into the hearts of cars both on the street and on the track!