Posted by admin at 20 July 2014, at 19 : 23 PM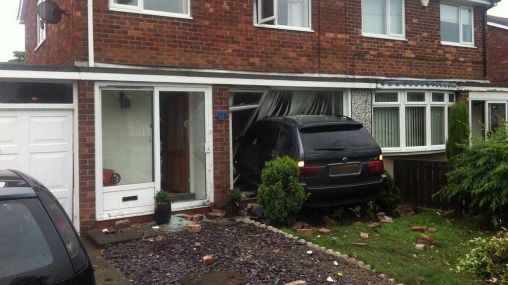 This morning, in Ashington, UK, a BMW X5 crashed into a house and caused some serious damage to the house and also to the car.
The car was driven by a 25-year-old man, which was arrested on suspicion of dangerous driving after the incident.
Officers are investigating the incident. No one was injured.
As you can see from the pictures, the car is damaged badly, but the room looks even worse. The room looks like a total mess.
What did cause this crash? Maybe the driver was drunk, or maybe he was speeding too much, or maybe drugs… At the moment, it's not clear what exactly caused the accident.
It was reported that this incident happened at around 8.24am (UK time). So, I guess people were still sleeping (yes, It's Sunday!) in that house, or maybe there were no people in that house. But if people were still sleeping in that house, they probably had some serious shock after the BMW X5 crashed into it.
At least, it's an older BMW X5 model, so the car isn't expensive at all. Also, to fix all the damage done to that house, it shouldn't cost much either. Yes, the room does look like a mess, but I don't see any damage which could cost a lot to fix.
By the way…not the best way to start a beautiful Sunday morning BMW X5 driver! 🙂