Posted by admin at 20 July 2013, at 14 : 18 PM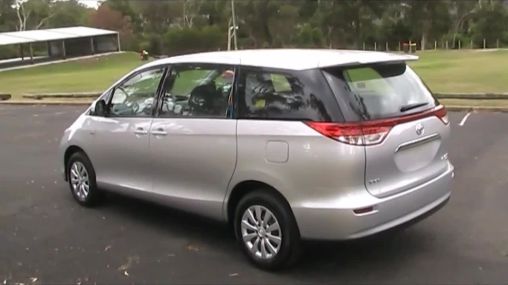 The family has gotten bigger, which could only mean dire things for your beloved two-seater sports car. It is about time you switched from road beauty to road practicality. Minivans make for ideal family vehicles. They are roomy, built for little ones in the family, and safe for all passengers. And over the years, these multi-purpose, multi-utility vehicles have gained popularity, leading manufacturers to produce some of the most versatile and even good-looking minivans.
The Toyota Tarago is considered as one of the more popular people movers. The vehicle is offered in a 4-cylinder to V6 range, featuring 7-seater and two captain chairs with ottoman versions and 8-seater versions. Other minivans from Toyota such as the Alphard come in luxury and sportier versions, with optional safety features like radar cruise control. If you are a little bit overwhelmed by the range of minivans in the market, consider the following tips in order to buy the best one for your needs.
Find a minivan size suitable for your family
MPVs or multi-purpose vehicles come in varying sizes: small, medium, and full-sized. You do not want to end up with a minivan that will be too big for your family because the running costs will be too much. Conversely, a minivan that is too small for your needs will fail to serve its purpose.
Always take into account the fact that you might be carrying luggage and other items in your minivan, not just passengers, when considering its size.
Pay attention to features your family may enjoy and need
Many minivans like the Nissan Elgrand are now designed both for practicality and luxury. The luxury MPV, manufactured since 1997, features remote control doors, eight-speaker sound system, which you can upgrade to the nine-speaker Bose system, DVD player with 9" screen, and a whole slew of other optional features such as heated front seats and wood grain effects on panel.
It is recommended that you get minivans with those all-important safety features, not just the luxury features, so you and your family are assured of a safe and comfortable ride. Look for SRS airbags, vehicle stability control, traction control, lane monitoring system, and blind corner monitor, among many others.
You should also look into other optional features that can enhance long family drives when heading to holiday destinations. You might want to focus on minivans that offer fold-down trays, for better meals in transit, and swiveling chairs so passengers can face one another for games and chats.
Look for fuel efficiency
Finally, do not forget the cost of running your minivan. Whether you go with a Toyota Alphard, Nissan Elgrand, or some other range, you will want a minivan that can optimise use of air conditioner and one that conserves fuel.