Posted by admin at 8 April 2013, at 20 : 45 PM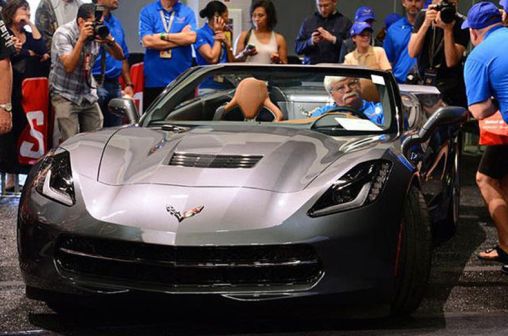 The very first 2014 Chevrolet Corvette Stingray convertible was sold for 1 million USD ($) at Barret-Jackson Palm Beach auction just last weekend. The lucky bidder was NASCAR team owner Richard Hendrick. Also, he is the owner of Hendrick Automotive Group company.
The Chevrolet Corvette Singray coupe model was the very first model bought by the same person as well. That time, this man paid little over 1 million USD ($) for it.
A rare 1958 Corvette owned by former General Motors CEO Dan Akerson has been bought recently for 270,000 USD ($). Guess who bought it? It's the same man, Richard Hendrick.
This man is probably a big fan of Chevrolet cars, and he do have good taste in cars. His newest toy with a 6.2-liter V8 LT1 engine definitely is a nice toy. Knowing that the engine of this new 2014 Stingray produces 450 hp (331 kW) and torque of 450 lbs-ft (610 Nm), makes it look even nicer. What makes it really nice that this new model can hit 0-100 km/h or ~0-60 mph speed in just 3.9 seconds — It is a brutally fast automobile.
One thing that is missing and isn't that nice about all this thing is that the owner have to wait until this fall to actually get the car, because it's not released yet, and it is not going to happen for at least 6 months. The model on the auction was just a test model, and the real model isn't available yet. So sure we can congratulate the person that he bought a nice car, but still to buy something and to receive it after such a quite long time should be kind of annoying — Especially it should be annoying when you buy such a car for 1 million dollars and you receive it after such a long time, and you know that the car is normally going to cost almost 20 times less compared to what you've paid for it, which is about 50,000-55,000 USD ($) for each car.
All the money from the auction will go to the Barbara Ann Karmanos Cancer Institute. Barrett-Jackson is that person who sold this Corvette and he is no stranger to charity auctions. He claims that he has raised more than 50 million USD ($) for charities through its auctions. While the owner of this new Corvette, Richard Hendrick, is no stranger to charity auctions as well. Also, at the same auction, another great model was sold — It was a 2011 Dodge Challenger SRT8 392, and it was sold for 175,000 USD ($). So it adds another 175k USD ($) for the institute.
The official sales of the 2014 Chevrolet Corvette Stingray convertible model starts late in 2013. The new model will be available with a 6-speed automatic or a 7-speed manual transmission. All models features rear-wheel drive systems.
Competitive models are: 2014 SRT Viper Roadster, Ford Shelby GT500 Convertible.