Posted by admin at 7 December 2014, at 19 : 45 PM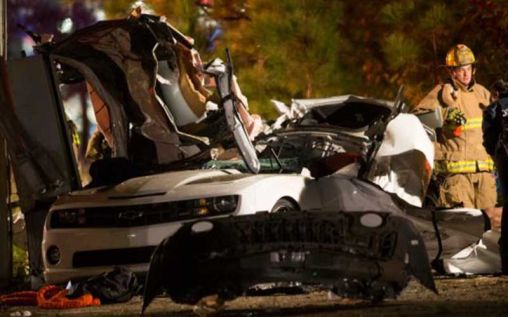 A deadly white Camaro crash happened just a few days ago in Harris County, Texas. 3 people inside the Camaro were found dead at the scene.
The deadly accident happened when a white 5th generation Camaro crashed into an overpass crossing Interstate 45 in north Harris County. A driver and two passengers – all 3 were males – were found dead.
Two of the victims were students at Dekaney High School in the Spring Independent School District.
One of the witnesses have said that the Camaro was driving at least 80 mph before it crashed.
The Camaro apparently struck a curb on one side of the feeder road, then crossed over and struck the curb on the opposite side. The car launched into the air, slamming into a pillar at the Paramatta overpass – deputies at the scene said.
The crash scene looks horrific, and the Camaro is just a mess right now. Deputies weren't immediately able to get to the bodies because of the condition of the car.
The crash and the investigation caused major traffic delays for hours both along the freeway and nearby side roads.