Posted by admin at 4 June 2013, at 17 : 14 PM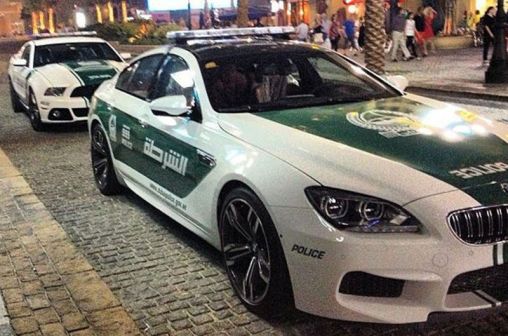 Looks like Dubai's police keep adding and adding new great cars to its list. New and exiting 2 models have joined Dubai's police forces. These 2 new models are a new 4 door BMW M6 Gran Coupe and a Ford Mustang.
Both new cars are really exciting, but even these 2 new exciting models aren't the best in Dubai's police. Dubai's police already bought some even more exciting cars before. Currently, they have 7 other sports cars: Lamborghini Aventador LP 700-4, Chevrolet Camaro SS, Aston Martin One-77, Bugatti Veyron, Ferrari FF, Bentley Continental GT and Mercedes-Benz SLS AMG.
Isn't the list of their cars looks pretty amazing? Sure it does! Now, you think that the police job out there is the best job of all? Well, we don't think so, because not every policeman out there gets to drive these gorgeous and super fast sports cars. Obviously, the ones who get to drive these cars, they definitely can't complain about it, because most people can't even drive such cars in real life, and to be able to drive such cars in your job, it is pretty nice.
If you think why they need such expensive and fast cars, the answer would be simple — Dubai is a place where a lot of exotic sports cars can be found. As you know, exotic sports cars are really fast, and you can't catch these cars with a regular police car, that's why they need these fast cars too. Obviously, maybe that's not the only reason. One of the reasons probably is to show off that Dubai is a rich place and to add some unique looks to that place as well. There is no other place in the world where you can find such cars in police. By having these cars, Dubai gets extra attention to it, and that is good for them.
Not just police cars are great in Dubai, the whole city is great and the most unique in the whole world. If you're planning to visit some amazing place, you definitely should visit the city of Dubai, because it definitely is one of those places that are worth visiting.
Dubai's police already added some nice cars to their forces, but we can definitely think that these 2 new cars aren't the last ones to their list. In the future, they might buy even more cars like these. Dubai is a city of surprises, and you can never know what's next.