Posted by admin at 1 November 2013, at 15 : 34 PM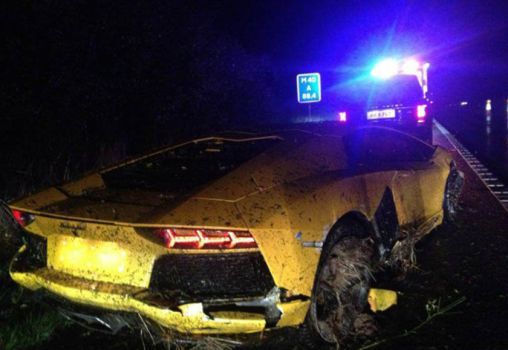 This week was not the best week for the owners of those 3 exotic sports cars. Those accidents probably messed up their plans for this year's Halloween or maybe not, maybe they don't care about this year's Halloween. One thing is for sure, their cars got messed up, and it is not nice at all.
The first victim was a Lamborghini Aventador. This gorgeous automobile crashed at the beginning of this week. In the UK, there was quite a big storm that night, and the driver of this car just lost control and crashed this beauty. Above you can see an image of that Lamborghini.
The second victim was a Ferrari 458 Italia. This red color Ferrari 458 Italia recently crashed on George Washington Parkway in Washington DC, US. Yet again, a driver lost control of the car and crashed into a guardrail.
The third victim was a Ferrari FF. This accident happened yesterday in New York, US. This time it was not because a driver lost control of the car, this time it was because the driver either was going too fast, and he couldn't stop at the right time, or a truck driver was driving backwards and hit the Ferrari. We can't say how this happened, because only the Ferrari driver should know it, and maybe some more people who were around at that particular moment. Below you can see an image of the accident.
Currently, we have only those 3 reports of exotic sport car accidents occurred this week. However, we probably can say that there was more than just this, and there is a good chance that more exotic sport cars crashed this week. Not every accident involving exotic sport cars is reported publicly.