Posted by admin at 7 January 2014, at 22 : 50 PM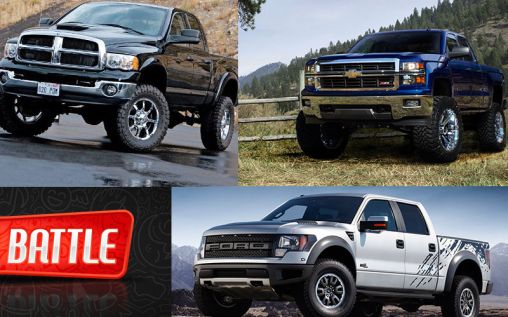 Muscular. Hefty. Powerful. Every guy and gal who prefers a pickup truck to a sedan would want their ride to embody all three words. Because the demand has grown exceedingly more sophisticated, today's trucks have also become more luxurious — inside and out.
One of the formidable names in pickup trucks has to be Ford. Ford's pickup truck line has been so well received over the years that a majority of auto critics even wax poetic about its performance and design. But how does Ford's F series of pickup trucks stack up against major redesigns from other big names like Dodge and Chevrolet? Let's take a look at F-150 vs. Dodge Ram.
The Ford F-150 has been taking a lion share of the market, thanks in large part to its improved gas mileage (which is an essential aspect to a car purchase what with skyrocketing gas prices), its extreme towing capability (which is one of the key reasons why drivers choose trucks over sedans), and its advanced luxury and high-tech features (which is what makes modern pickup trucks so vastly different from your grandpa's truck back in the day).
Add to these the many variations in style that reflect every personality: the F-150 Raptor's fenders, blacked out trim, skid plates, and 6.2 liter 411-hp V-8 scream hardcore macho while the Harley Davidson edition's remote start system, heated seats, ambient lighting, and rear view camera, among other features, reveal the lavish side of a weekend warrior.
But as some car critics have noted, for all of F-150's impressive and divine innovations, the Dodge Ram still delivers a calmer ride quality, which is always a favorable thing for truck passengers. The ride quality is attributed to the new coil-spring setup underneath the cargo bed. The coil-spring rear suspension, unfortunately, limits towing capacity, which may be a deal breaker for some buyers who need trucks that can haul hefty loads for road maintenance, heavy construction work, or farming.
What about F-150 vs. Silverado? Updated to keep up with today's high-performing, good-looking pickup trucks, the modern Chevrolet Silverado is 200 pounds lighter than the F-150 and about 400 pounds lighter than the rather stout Ram. This weight advantage translates to braking performance; one critic even notes that the new Silverado handles like "a big car than a big truck." And if you're looking to gun it in your new pickup, the Silverado's transmission shifts impeccably at higher speeds.
So which one do you think you'll be hopping into? The Ford F-150? The Dodge Ram? Or the Chevrolet Silverado? Weigh your options carefully. Consider why you need to use a pickup truck. And make your comparisons on performance, features, safety, comfort and quality, fuel economy, and (don't forget) personality.