Posted by admin at 27 March 2018, at 13 : 23 PM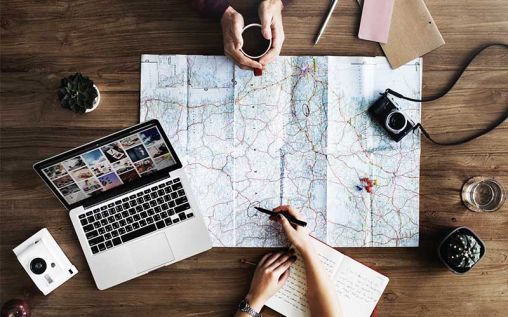 With summer just around the corner, now is the perfect time to think about planning a summer road trip. Admittedly, most people will want to do this domestically rather than flying to some faraway land; however there's a certain sense of increased adventure that comes from driving on the wrong side of the road in an unfamiliar land.
For this reason, we're going to look at a number of far away road trip destination ideas – just be careful to rent or buy a car that's road trip ready, as the last thing you want spoiling your road trip is a less welcome trip to an auto repair garage. For this reason, it's probably best to rent a new car with a reputable company like Avis or Hertz.
1. IRELAND'S WILD ATLANTIC WAY
The WIld Atlantic Way is the longest coastal route in the world, running 2,500km up the Western Coast of Ireland. There's an incredible amount to see and do in such a short distance and each day offers spectacular views of emerald hills, azure seas, rustic beaches and a unique culture.
2. CANADA'S COWBOY TRAIL
If you're looking to get away from it all you can follow the route through Southern Alberta to the lunar landscape of the badlands to where the Great Plains meet the Rocky Mountains. It's a breathtakingly beautiful journey with a lot of variety in terms of scenery and activities en-route.
3. GO OFF ROADING IN THE GOBI DESERT
Mongolia's Gobi Desert will allow you to go, if not necessitate, off roading until your heart's content. This remote region has a natural rugged beauty whilst the vast emptiness around much of the route through the desert is strangely beautiful.
3. SALAR DE UYUNI
Bolivia is home to the world's largest salt lake that is a perfectly flat white expanse that can make you feel as if you're on another planet. When it rains, the water reflects and turns the lake into one giant mirror reflecting the surrounding peaks. Yet, when it is dry, the surface is so white it could be mistaken for snow whilst at night the land is illuminated by the glow of the moon.
4. ICELAND'S RING ROAD
Iceland is becoming a very trendy tourist destination due to the shift toward experiential and activity focused tourism. There's a 1,3339 kilometre road that runs around the island known as the N1 that highlights the island's inspiring scenery taking you from fertile valleys to snow-capped mountains and lava fields.
5. THE BLACK FOREST
Famed for its gateau, this region is arguably one of Germany's most picturesque. Here, you'll find sweeping evergreen forests along with rolling hills, pretty villages and historic towns. The huge plus, about Germany, for those with a need for speed is that certain roads known as autobahn are completely unrestricted in the sense that you can legally drive as fast as your car will take you, which is why it's recommended to rent a higher spec car than you might usually hire.