Posted by admin at 7 February 2014, at 21 : 26 PM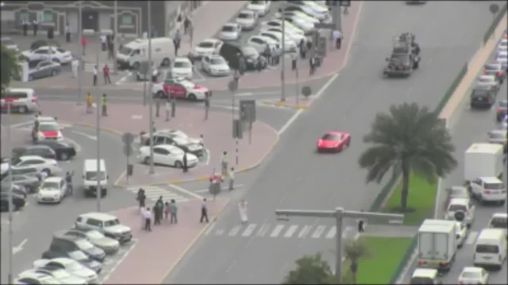 An interesting footage of the upcoming movie "Fast and Furious 7″ has been uploaded to YouTube recently. The footage shows the filming of some action scenes with a red Ferrari 458 Italia, in Abu Dhabi.
Currently, the footage isn't looking very interesting, because it was filmed far away from the actual action. It is obvious that the real scene in the actual movie is going to look better. This video was filmed by some random person in a building, so don't expect a professional video. Also, the quality of the video is not the best, but it is still quite interesting to watch.
Check out the Fast and Furious 7 video below and see it by yourself
Originally, the Fast and Furious 7 was announced to be released on July 11th, 2014, but because of the death of Paul Walker, the date has been changed. The new date was set for April 10th, 2015. So yes, it is still more than 1 year left. Let's just hope that this is the final date, and the movie is going to be released on that date.
I am sure that a lot of fans are not very happy about the delay, but I am happy that the filming goes on. Actually I'm not really disappointed about the delay, because I completely understand the makers and how much work it takes to create a good movie — that accident with one of the main actors was really bad for the movie as well. I am sure that the movie is going to be awesome, so I have no problems with waiting a little longer.