Posted by admin at 2 March 2013, at 17 : 05 PM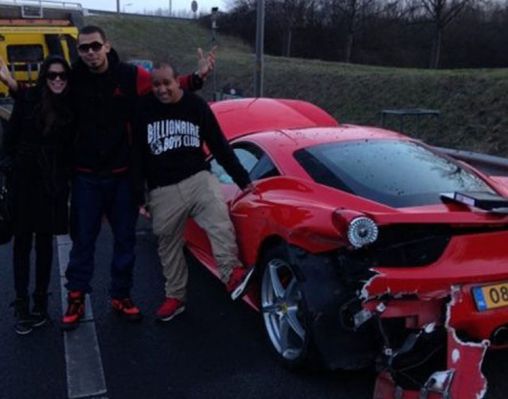 As you can see from a pic above, this beautiful red Ferrari got wrecked pretty bad. Well, it happens when you have a plenty of money, but your driving skills aren't that good (or something like it).
A well known music star from Netherlands aka "DJ Afrojack" was driving this car on a wet asphalt road and couldn't handle the car after losing control. He wrecked the rear part of the car pretty bad. Not sure what exactly he hit with the car, but it was probably a sidewall of the road, because no other cars were involved in the accident.
In the pic, you can clearly see that he doesn't look too sad about it, or it might be a fake smile. But since having so much money as he does, I think most of you wouldn't be sad about it either. Or probably the car insurance company will pay for the damage anyways. Even if not, after all, it's just a small loss to him anyways. Even on Twitter he tweeted this – "For everyone that's asking me why i'm smiling: it's a car, I have a great family and just as great fans!! love all of you!"
The culprit of the accident blames bad weather and posts on Twitter that he learned a good lesson. Also, he said that bad weather and the Ferrari don't fit together at all.
Well, as most of us should say, the Ferrari doesn't fit with bad driving skills. Doesn't matter it's raining or it's a beautiful sunny day, if you can't drive well, you shouldn't be driving a fast car on a high speed at all. Because of drivers like this, other innocent people get hurt everyday.
It's good that this time no one got hurt, and no other innocent people were involved in the accident. Since he said that he learned his lesson, it might be good too. Maybe the next time he drives one of his fast cars more carefully or at least takes some good driving school lessons.
Obviously, it's not for us to judge him. Accidents like this happen everyday, and even skilled drivers make mistakes and wreck their cars.