Posted by admin at 26 August 2014, at 18 : 43 PM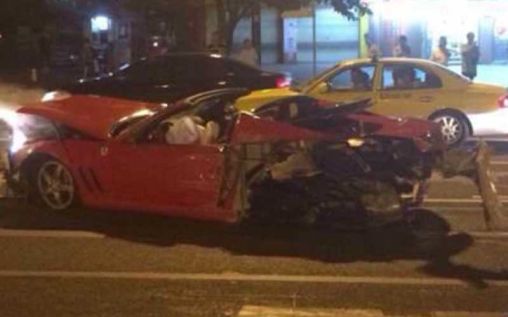 Recently, a very rare car, which is Ferrari 575M Superamerica, has been wrecked in a car accident in Guangzhou, China. The car has been damaged badly, and it is apparently beyond repair. A big hole has been created in the engine bay, and other parts of the car are wrecked badly as well. After such accident, the only place for this car is a junkyard. It's hard to send such a rare car to such place, but its days are over.
We don't know how exactly this accident happened and if someone is injured or not. But as you can see from the pictures, the car doesn't look good at all. Maybe the driver is okay or maybe not. We can't say for sure. Let's just hope that no one got hurt.
Ferrari 575M Superamerica is a very rare and also very expensive car. Only a total of 559 Superamericas were built. It was introduced in 2005 as a convertible version of the 575M Maranello.
The car has a 5.7-liter (5748 cc) V12 engine which produces up to 533 hp (397 kW) at 7250 rpm and torque of 434 lbs-ft (589 Nm) at 5250 rpm. It can accelerate from 0 to 100 km/h (0-62 mph) in just 4.2 seconds, and can reach a top speed of 199 mph (320 km/h).
The price (MSRP) for a Ferrari 575M Superamerica was set at around 305,000-315,000 USD ($). As it was said previously, it's a very expensive car, and sure it is. Such a good car and so much money are wasted.