Posted by admin at 16 August 2014, at 17 : 35 PM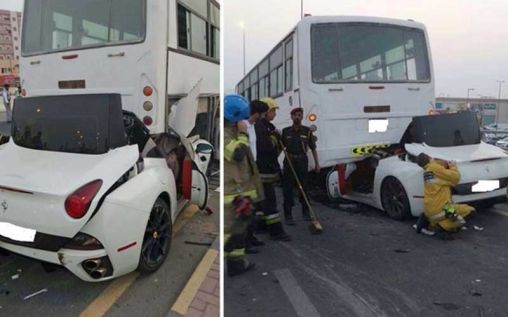 This beautiful, white Ferrari California has been wrecked badly when it brutally crashed into a bus in Ajman, the United Arab Emirates.
The driver of this Ferrari lost control (obviously speeding too much) and hit 4 cars before crashing into the bus.
The bus was packed full of workers, but no one was injured. The damage to the bus was small and the impact probably wasn't that big (at least for the bus). Not sure how badly are damaged those 4 other cars, though.
The Ferrari driver – who is believed to be in his 20s – didn't suffer any serious injuries and was taken to a hospital for treatment.
One person from those 4 cars was taken to a hospital as well. No other people were injured.
Now, when you look at the pictures, you probably can't believe how this guy didn't die. The whole front of the car is underneath the bus and looks like he could've lost his head there. He probably is one, lucky man. I am sure that he's going to remember this day for the rest of his life, and how lucky he was that day. Unfortunately, his 200,000 USD ($) Ferrari California wasn't that lucky and needs some serious repairs.
A spokesman for Ajman Police told the newspaper, "When we reached the area and saw the damaged Ferrari, we couldn't believe that the driver survived".
Police have launched an investigation into the incident.