Posted by admin at 14 October 2013, at 21 : 27 PM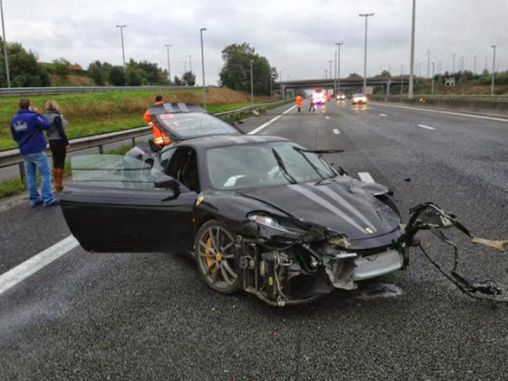 Recently there was a collision of two beautiful sports cars on a highway in Belgium. A Ferrari F430 Scuderia driver lost control of his car and slammed into a Mercedes-Benz SLS AMG.
Just a few days ago, a 2014 Chevrolet Corvette Stingray crash was reported, and now again another crash of a beautiful exotic sports car occurred.
Only two pics are available at the moment of the accident. Both pics show the Ferrari F430 Scuderia after the crash. There are no pics at the moment of the Mercedes-Benz SLS AMG and there are no news about it either. All we know right now that the Ferrari F430 Scuderia got wrecked pretty bad in the collision.
The Ferrari F430 Scuderia is kind of a mess right now, it looks really bad after this crash. Well, it isn't a total mess like it was a Ferrari 430 Scuderia after crashing while driving at 300 km/h, but still the car looks very bad.
If you are curious why a driver lost control of this car, well, he was driving on a wet road, and most of you should know how powerful this car is. Well, I think it is obvious that it is very easy to lose control of a powerful car like this, one bad move, and it can end pretty badly. At least no one got hurt this time, well, can't say the same about the Ferrari, because it got hurt badly, but people are fine.
It is a shame to see such a beautiful car wasted, but exotic sports cars get wrecked pretty often. I am sure that this Ferrari F430 Scuderia can be fixed, because it doesn't look like you can't fix it anymore, but I still feel sorry for this beautiful car.