Posted by admin at 24 September 2013, at 09 : 55 AM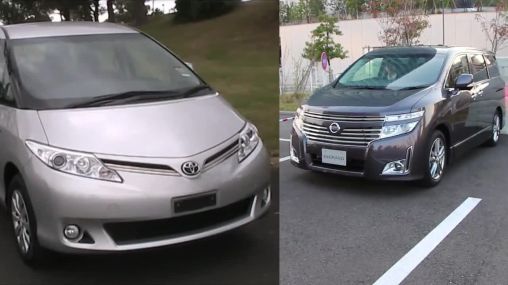 From the popular Toyota Tarago or Honda Odyssey to the more luxurious Nissan Elgrand or Toyota Alphard, minivans are becoming stronger sellers these days. Sure, there are still people who prefer the sleek and sexy coupes, but more and more people are seeing the advantages in driving a minivan.
In such a country as Australia where being environmentally responsible is a huge thing, carpooling is definitely a concept that appeals to many. It's not just for your token soccer mum assigned to transport all the neighbourhood kids to practice or to the family with more than two children; it's for everybody who recognises that it's more practical to get to regular destinations such as work and school as a group.
Most families, even the small units, realise that a minivan is in order as soon as at least one kid arrives. When you're a family of three or even four, you think that a four or five-seater sedan is enough, but think of the bulky car seats and other gear needed in the big production that is transporting kids from place to place and you'll know that a bigger vehicle is called for. What if Grandma is visiting? What if a cousin, a friend or a neighbour is going with you somewhere? Without a minivan, you'll have to take two vehicles to move everybody around.
A minivan is designed with a big family or a group on a road trip in mind. There is definitely a potpourri of fun features present. Depending on the model you get, you could have everything from a great sound system to TVs and DVD players. Some minivans even have swivel seats and a collapsible card table. There are more buttons present than in a space shuttle and plenty of options to keep passengers occupied.
With a gaggle of children usually present, safety is also a huge consideration. Minivans in Australia certainly adhere to the country's safety standards. They are definitely protective provisions in case of a collision. They also have features compatible with different kinds of car seats. Many of the materials used for the interior may also be anti-bacterial considering young children's unhygienic habit of licking and gnawing at almost anything. Besides safety, comfort is another target. Passengers can enjoy cushy seats, climate control, lots of leg room, etc.
The minivan's advantage has mostly to do with space. Basically, you have plenty of room not only for seating but even for walking, albeit in a somewhat crouched fashion. It sure beats crawling over seats like you'd have to in a station wagon. Passengers, luggage, or even things like sheets of drywall or a washing machine… without a doubt, a minivan has space for cargo.
Some people think minivans are like boxes on wheels, but automobile designers have learned to soften those lines and minivans are now looking better than ever. And with their very noticeable and dominant presence, it's easy to see that they actually rule the road.