Posted by admin at 4 June 2014, at 17 : 38 PM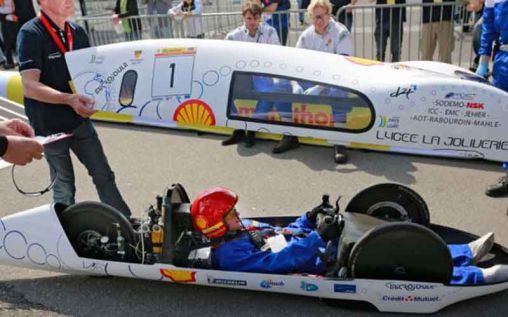 Recently, the most fuel efficient car ever built has been created by French students. This car can go up to 2072 miles (~3334 km) with only 1 liter of fuel. So basically you could drive ~100 km (~62 miles) with only 0.03 liters of fuel.
The car runs with normal petrol but also can run with ethanol. It weighs only 35 kg (~77 lbs). To achieve such a small weight, the makers had to use carbon fiber, and they did. The whole car is made of carbon fiber. It drives on three wheels and can carry only 1 person. Well, yes, you can't take any passengers for a spin and it's probably one of the bad things about this car, but when you can drive so far with so little of fuel, all these bad things aren't important anymore.
This super fuel efficient car is not just light, but it also offers very low rolling resistance and air resistance, and a very low drag coefficient. For example, if you would spin its wheel, it would not stop spinning for almost 2 miles.
Originally, this car was built as a part of the Shell European Eco-Marathon Contest. The creators of this car have won the 1st place by beating 200 other contestants. To be honest with you, even the second place was not even close to this car. This car is really amazing, and it definitely can be called the most fuel efficient car ever built.
And for the last thing, this car has one thing about it. The driver must weigh more than 50kg (110 lbs) in order to achieve such a small fuel economy. Well, I think this last thing is not very important, because basically almost every adult weighs more than 50 kg (110 lbs).