Posted by admin at 13 August 2013, at 14 : 44 PM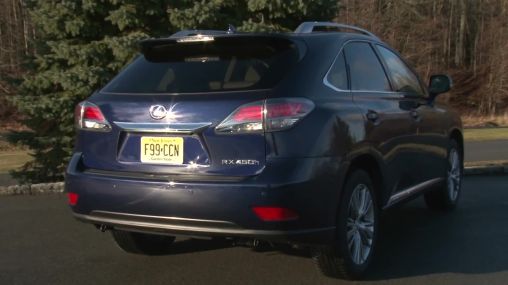 If you want an excellent ride for going offroad, it's worth considering the many benefits of the Lexus RX; this crossover SUV has been marketed by the Japanese carmaker since the late 1990s over three generations, and has most recently been defined by the hybrid power of the RX 450h. From its use of an efficient hybrid engine to its suitability for different kinds of offroad driving, the Lexus RX is an ideal choice if you want to push a luxury model to its limits.
In terms of the basic specs of the RX 450h, the car starts from about £44,000, and can hit 0-62mph in just 7.8 seconds, while providing a CO2 emissions rate of 145 g/km; you can also push the RX 450h up to 124 mph, and can benefit from a 21 per cent Benefit in Kind Rate. Five and four door versions of the RX are available, while the brand's reliance on petrol engines and electric motors mean that you can get the most out of Lexus's high precision engineering.
This precision is enhanced through a choice of steel coil springs and adjustable air suspension, meaning that you can focus on using the RX for a combination of city driving and off road adventures. The 3.5 litre, 295 bhp petrol V6 engine that comes as standard with the RX is designed to work with a high capacity electric motor, with extra trims like the F Sport adding single dampers to enhance handling and braking.
Going with a petrol and electric motor hybrid car generally produces lower CO2 emissions and road tax payments than a diesel hybrid. You can also benefit from a low drag co-efficient, while the RX comes with a second electric motor in its rear for boosting its power. Interior space for the RX 450h is also enhanced through a large cabin and a reasonably sized boot for longer trips and storage.
Trim options for the Lexus RX 450h include the entry level SE, which comes with a nine speaker audio system, as well as five spoke alloy wheels; Luxury trims, by comparison, are provided with parking assist sensors and built-in navigation. Upgrade to the F Sport, and you can make use of the RX's performance dampers, while the £55,000 Premier edition gives you leather upholstery, heated seats, an electric sunroof, a premium sound system, and a Heads Up Display.
Making an investment in an RX 450h is consequently recommended if you want to benefit from the power, handling, and fuel efficiency of the model. It's also worth noting that the RX 450h has been regularly voted as one of the most satisfactory cars for owners in medium and large sports utility categories; recent surveys identified the RX 450h's strengths in terms of its handling, space, and low running costs, making it an ideal choice for a crossover SUV.