Posted by admin at 24 February 2013, at 00 : 41 AM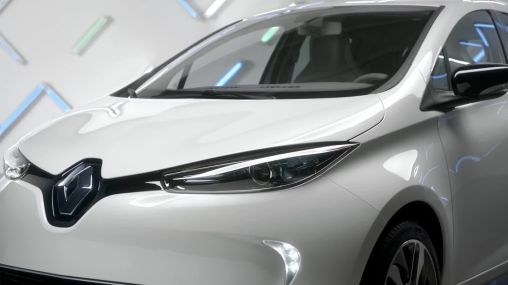 The electric car sales aren't that good as most of those car makers would like to be. These cars are not so popular in most countries. Renault has made an agreement with a government of France, and they got not so shabby order of these cars. A total of two thousand of Renault Zoe and one hundred of Renault Fluence Z.E. models.
A couple of thousands Zoe models will be good for the state-owned enterprise employees. With a fully charged battery in this electric car, you can drive from 100 km to 150 km. These numbers might don't look very good, but they also don't look bad either. It's very useful to be able to drive such a distance, if you don't need to travel long distances. The battery can be charged in up to 80% just by spending around 30 minutes.
The Renaul Zoe performance isn't that bad either, knowing that it's an electric car. Its engine produces up to 88 hp (65 kW) and torque of 162 lbs-ft (220 Nm). It can accelerate from 0 to 100 km/h or ~0-60 mph in about 13.4 seconds. Top speed is 135 km/h (84 mph). These numbers show that the car is very good not just in the city driving, but also pretty good on the highway as well.
The Zoe model comes with a front-mounted electric motor and front-wheel drive system. Features seven-inch display screen, LED running lights, Bluetooth, low resistance tires, mobile charge monitoring, multi-function steering wheel, Sat-nav and a mobile charge monitoring.
The Fluence Z.E. is a little bit faster than the Zoe model, it can reach 0-100 km/h or ~0-60 mph in around 13 seconds, but the top speed is the same 84 mph. Also, it can go around 185 km (115 miles) with a fully charged battery. While driving aggressively, the battery can be emptied even after 100 km (62 miles) of driving. The car's seats are pretty comfortable as well, so you can't complain about them. The engine produces up to 95 hp (70 kW) and torque of 166 lbs-ft (225 Nm).
Both, Fluence and Zoe, are available for sale since 2012. The fluence Z.E. is available for sale since mid-2012, and it costs 17,850 GBP or ~27,070 USD ($). The Zoe is available for sale since October 2012, and it costs 13,650 GBP or ~ 20,700 USD ($).
Besides all that, if everything goes well, Renault thinks that in the upcoming three years, the total sales of these electric cars can reach a solid number of 17,000 units. They also already making 15,000 units of Renault Kangoo Z. E.