Posted by admin at 10 June 2014, at 10 : 25 AM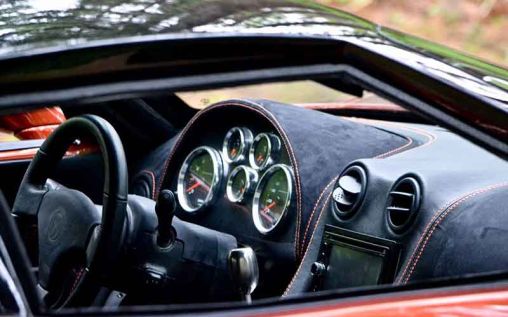 Almost two years ago, I discovered the Factory Five GTM in a Classic Car Trader magazine. I thought it was another kit car at first. But then I realized it was an original design. I became a lot more interested in it when I realized the performance potential the car had, and the quality which it was built. So without a doubt, I could easily call this car as My favorite home-built American Supercar and here's why:
It's basically a mid engine car that uses C5 Corvette running gear and a porsche transaxle. Lately though, people are starting to use the Ricardo transaxle out of a Ford GT instead as it is stronger of course, being made for a supercharged V8. With an LS7 505 HP engine installed, with its rear-wheel drive layout, it can go 0-60 mph in 3 seconds flat and run the quarter right at or just under 11 seconds (I've heard 10.9 from a couple sources). That's amazing considering that all the other cars of the world that have around 500 HP come nowhere close to this. It can outrun a Ferrari Enzo with 150 less horsepower. Of course the car weighs around 2,350 lbs or somewhere close. That's just a bit more weight than a Lotus. Also, it has been wind tested at Langley Air Force base in Virginia. The price for the kit is around 20 grand, but you can control the other half of the price depending on what you want out of it.
There are lots of vendors that are willing to service the GTM builders. There are donor kits from C5 Corvettes with almost all the parts you need besides the Engine and Trans, for under 5 grand. You can choose any of the LS engines from a C5 or C6 Corvette, and add a number of different porsche transaxles to it. They're plenty strong, but very expensive. The good thing about the GTM is that you don't have to have a ridiculous amount of power to outrun pretty much everything around. Most people actually say that they regret putting in the amount of horses that they did. They claim it's pretty scary to drive one with over 400 horses, especially since there are no options for any kind of traction control.
It might sound like I am endorsing the Factory Five GTM, and in a way I am. I'm not getting paid for it, but I've been a member of their forums for over a year now and have learned a lot about it. I think it's a genius idea how they took American technology and gave it a mid-engined set-up. I really wanted to buy the kit a few months back, but decided against it because I realized it probably wouldn't be a good idea. I couldn't help but thinking it was perfect for someone like me who can't afford a supercar. If I could just scrounge up the money to get the kit, I would have my car, and nobody could take it away from me, I thought. I'll just grow me a garden and bike everywhere, then I'd be able to buy the other parts for the car. I think if you're in my situation then it's a good option.
I don't believe that this car isn't just for the people who can't buy an expensive supercar, I think it's for someone who just wants something different. I truly think if I had a million bucks that I would buy this because I really do love the car. Then again, if I had a million bucks a Viper ACR, a ZR1, and a Heffner Ford GT would be next to it, but you get my point. I don't think Factory Five made this for the people who had just enough to buy the kit, then could slowly save over time. I think they built it for the American "car guys", the real enthusiasts who buy cars for the sole reason that they love them.