Posted by admin at 10 October 2021, at 08 : 38 AM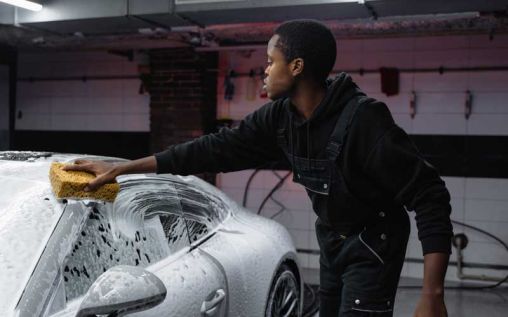 If you own a car or operate a washing service for vehicle owners, you will need to invest in the right car care products. And what this means is that you want to know the best ones that won't put a dent in your paint. Or worse, spoil the reputation of your business. This article talks about how to shop for quality car care products. But before we get into that, let's first talk about how to ensure that your vehicle is in the proper driving condition.
How to Maintain your Car?
Indeed, you will only need to care for something that is precious to you. And it doesn't matter the value of an automobile; you want to ensure that it runs and is in a safe condition. Poor maintenance can lead to road accidents and cause you major repair expenses when it finally breaks down. You can check here for ways to prevent road accidents for vehicle owners.
If you are critical about keeping your car in the best condition, below are some of the things you want to do regularly.
Check-in with the Mechanic
It is not only when there is a fault with your vehicle that you look for a mechanic. It is also right that you occasionally check-in for routine services where you get to change the oil and the filters. The brake pads and wheel alignment are also necessary routine checks you want to carry out. So if you want your vehicle to stay on the road, you want to do this regularly.
Look in the Hood
You don't want to be in the habit of driving around without checking the state of your engine and radiator. You should check that the lubricant level is well gauged and that there is water in the radiator. This link https://fixitclub.com/car-repairs/check-under-the-hood/ has more on what to check in the bonnet. 
Give it a Decent Wash
It doesn't speak well of your personality if you are known to always arrive in a dirty-looking car. This is why you want to make it a habit of giving it a thorough wash in the interior and exterior. This could help keep out dirt and avoid the many names they give you for showing up in a shabby-looking car.
Park in the Shade
Unless you want to visit the paint shop for a new coat every year, you want to consider a home garage or choosing to park in the shade when leaving your car outside for long. It would help to avoid areas with trees, so you don't walk up to a broken windshield one windy afternoon.
Replace the Tires Regularly
The tires play an essential role in your car, and you want to ensure that they are changed regularly to avoid accidents or having to be stranded in the middle of nowhere due to a flat tire. You also want to determine which tire sizes are best for your car so you don't go wrong with the alignment.
How to Shop for Car Care Products
There are undoubtedly countless options in the market if you ransack the automobile clean section. But you want to make sure that you get quality options that will be easy on your car paint and the interior. So you want to avoid harsh components in your wash and auto cleaners. The guys at Ethos car care have all you need to get the job done perfectly for individual use and auto wash service providers. 
You can start by researching the best options in the market and see what other vehicle owners have to say about them. You want to focus on what they have to say about the effect on their car paint. The best options are those that leave a glossy finish without stripping off the natural paint.
You will need to get soap and washing liquids that are specifically for cars. A brush will also be required for working on the tires, and you also will need a cover cloth for when the vehicle is not in use. You can use the internet to find out more about storing your car when not in use.
Final Note
Care maintenance should be a routine process, and while you want to visit the mechanic occasionally for regular checks, stopping at the auto wash will also be a good idea. There you can give your vehicle a squeaky clean treat. It is also possible to spend quality time in your garage, giving your car a good wash.