Posted by admin at 2 December 2013, at 20 : 16 PM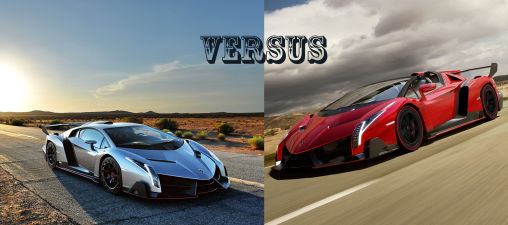 Lamborghini isn't exactly a mass producer of cars, and we expect great things from each of the models that are released. Back in October the updated version of the Lamborghini Veneno was revealed; the Veneno Roadster is currently listed as the world's most expensive car coming in at whopping £3.36 million. But is it going to outdo its predecessor, or does the excitement of the new model not quite match that of the original?
Lamborghini Veneno
Priced at £2.4 million, the Veneno was unveiled back in March at the Geneva Motor Show after much speculation. Released to celebrate Lamborghini's 50th birthday, the hypercar has been described as 'insanity wrapped in carbon fiber' by autoblog's Jeremy Koreniewski. The word veneno can be translated as 'venom' or 'poison' and is a fitting tribute to the rush within your veins with even just a glimpse of the stunning body.
Only three were made and were sold at lightning speed, so even if you were interested in buying one, the likelihood is that you're probably more likely to get your hands on a piece of the moon. It features a 6.5-litre V-12 engine putting out an incredible 750 horsepower, which is enough in itself to have you wanting a glimpse of it in action. Figures state that 0-60mph will be achieved in 2.8 seconds which puts it safely inside the top ten fastest cars on the market. Unfortunately, the Bugatti Veyron still reigns by achieving 0-60mph in an astonishing 2.4 seconds.
We were all wondering how this could possibly be topped as one of the most stunning hyper cars around with spec that makes your eyes water.
Lamborghini Veneno Roadster
October 18th saw the unveiling of the second phase in the form of the Lamborghini Veneno Roadster. So what is different to the original model? Well, for starters the price is nearly just shy of £1 million more expensive, coming in at £3.36 million. This makes it the world's most expensive Lamborghini car and with nine of them being made, that equals a total of £30.24 million for the lot. However, it is hardly all going into their pockets – a significant percentage will cover the cost to build the cars in the first place. But what exactly is the £1 million extra covering?
Well, this has actually caused a little bit of uproar from some people as, when you look at the Roadster, there is actually less of it than with the original Veneno. A major design change has taken place, which has meant that there is no longer a roof. The Italian manufacturers have designed this model to be a race car that is completely road legal, so have taken safety into consideration even without the roof. A strong rollover bar is present to make sure that in the event of an accident, the passenger will be as safe as possible.
The car still features the same engine as before, with exactly the same speed and horsepower. So minus a few small design changes is there really much of a transformation?
It comes down to personal choice with these two as, let's be honest, there isn't too much of a difference. If you love the freedom of a roadster and the £3.36 million price tag doesn't make you shiver then try to nab one of the nine being built. Otherwise, if you are more of a lover of the original, then you may want to track down those three lucky buyers and beg them to name their price.
This post was written by Amy Bennett who loves the idea of the Lamborghini Veneno Roadster but unfortunately it is a little out of her price range. Instead she has opted for a stunning Audi R8 which she found through Opulent Cars. The luxury car marketplace has a range of super cars available for purchase.