Posted by admin at 3 December 2013, at 20 : 23 PM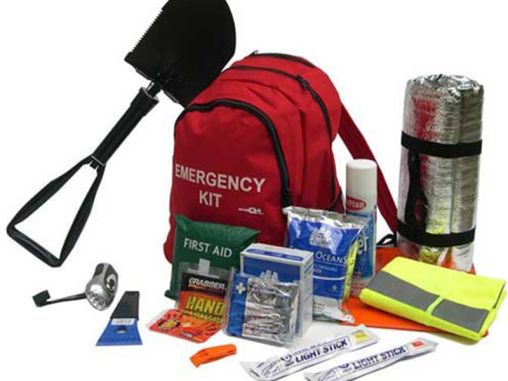 Winter isn't a fun time to be a driver – the slow moving traffic, the blasts of cold air from your yet-to-warm-up heaters, the uncontrollable sliding, and the having to peer through the only half-inch of windscreen that's not covered with ice to see where you're going.
It doesn't have to be cold, slippery slope to an icy accident; a winter car survival kit packed into the boot of your car can prepare you for every eventuality, whether you'll need to make some emergency car repairs or just sit it out until help arrives.
1. De-Icing Mini-Kit
This is a kit within a kit (Kitception!) – it contains all the essentials you'll need to keep the ice at bay and stop it affecting your car's performance and your safety.
• Ice Scraper: A must-have in any winter survival kit. Opt for scrapers with a 'squeegee' and a sponge attachment for versatility – there are even 'gloved' versions if you want your hands to stay warm.
• De-Icer Spray: Essential for melting the stubborn ice that won't scrap off – just give a short spray and it'll keep your windscreen, mirrors and windows free from ice.
• Specialist Screen Wash: This will stop any non-treated fluid freezing up and causing issues. NOTE: Only buy concentrated screen wash – with 'pre-mixed' wash you're just paying for water, getting far less for your money!
2. Jumper Cables; Mains Battery Charger
There's nothing worse than a flat battery in the winter, but it's more likely to happen now than any other time of year – batteries will start to drain away much quicker when idle in the cold, and they charge less while driving due to higher use of heating, headlights etc.
So, to avoid total marooning or inability to get to work in the event of a flat battery, always keep a set of jumper cables in your car so that a neighbour or helpful passer-by can get you started. Don't rely on this though – that's why it's a good idea to keep a mains charger in your vehicle, to allow you to top up enough from the mains to get started.
3. Plenty of Warm Clothing
No-one plans on breaking down at night halfway down a country road or in the middle of the motorway, but it can happen. Whether or not you have breakdown cover, you could be in for a long wait before someone comes to your rescue and, without the engine running, your heating won't work.
Shove some thick socks, 'work' boots, a big coat, hat and gloves into a bag in the boot of your car; hopefully you'll never need them but, if you do, you'll be glad you packed a mini-wardrobe!
4. Food & Supplies
Just like the clothing, being stranded in the bitter sub-zero temperatures of a cold winter night is beyond 'not fun' – it's downright dangerous. If you're in it for the long haul, and help is more than a few minutes away, then you want to make sure you've got enough energy to keep warm and keep going.
Put small bottles of water (easier to defrost if they freeze) and non-perishable food like chocolate bars, dried fruit or biscuits in a cooler in the boot of your car.
5. Lighting & Torches
Another one for the worst-case scenario of being stuck somewhere in the dark – you'll need to see what you're doing in the event of any work under the hood, the need to walk away from your car, or to make yourself seen if you're somewhere with no street/road lighting.
Thanks to LED lighting and high-capacity batteries, powerful and long-lasting torches are easy to find and really affordable as well. Opt for a really durable model, such as those with sturdy metal casing – it'll be knocking around in the boot of your car, and might be subject to a few drops on concrete or tarmac, so you want to make sure it'll withstand the hit.
This guest post was written by Tom McShane – blogger, driver and terrified winter traveller. Utilising the research for this post, Tom has put together a winter kit in the boot of his car and recommends Taroni's Motor Salvage for anyone in need of car spares for a winter repair.