Posted by admin at 5 June 2019, at 16 : 38 PM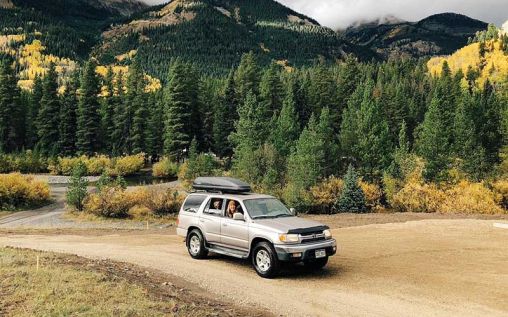 No matter how big your car is, sometimes there just isn't enough space in it for everything you need to take with you. Whether you are off on a family vacation, a road trip, or a long journey to visit relatives, you will often find that it can be a real squeeze to fit everything you need inside the car. Of course, merely piling up all your luggage can cause some health and safety issues, you may find that you view of the road is obscured, or that the sheer amount of stuff you have in the car is both restrictive and distracting. To make the journey more comfortable for everyone in the car, and ensure that everyone in the vehicle stays safe, it is a good idea to look at alternative solutions to make some extra space. Luckily, there are quite a few ways that this can be achieved and will help you to have a more enjoyable car journey.
External Storage
When the inside of your car is filling up, looking to the outside of the vehicle for some extra storage space is the ideal solution. A roof box is perfect for extra storage and will help keep your belongings safe, secure, and dry on your trip. Using roof boxes provides plenty of extra space and reassurance that your belongings are stored safely in one place. If you are heading off on an active adventure and your trunk doesn't have enough space for your bikes, why not get a bike rack? Bike racks are specially designed for safely transporting your bikes on the outside of your car, and saves having to try and fit them inside the car itself, by removing wheels etc.
Organize Your Trunk
Many people permanently drive around with a whole heap of stuff in their trunk. Often this is simply because it is out sight and out of mind. Having a clear out of your trunk before a long road trip is a great way to free up your space. Even if you don't throw anything away, it will still enable you to get it tidied up and neater.
A trunk organizer is a brilliant way to get all the stuff you need in your boot in the right place. These handy storage containers usually contain lots of different compartments, making it much easier to check you have everything that you need. Trunk organizers are helpful to help ensure you have all the car essentials you need for your journey in one place. Items such as jump leads, a tow rope, and a flashlight can all be easily stored in your trunk organizer.
Backseat Organizer
If you have kids, the chances are that they bring a lot of stuff with them on a road trip, such as drinks, books, and coloring. A backseat organizer will enable you to have all the kids bits and pieces safely stored in the pockets, making it easy for them to reach and a whole lot tidier too.