Posted by admin at 12 October 2023, at 06 : 15 AM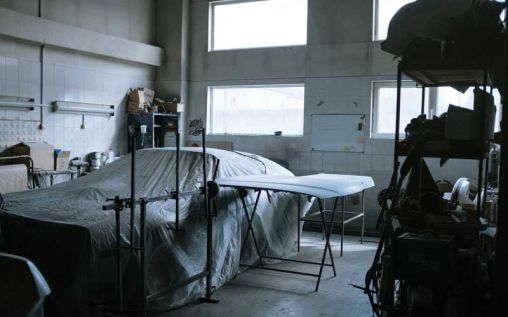 Believe it or not, 53% of drivers have never parked their cars in their garages. Why? Because there's not enough space. Most garages have become victims of overflow, cluttered with non-auto-related items. In most cases, what's left is enough room for foot traffic while the car is left feeling lonely outside. Space is important in every garage, especially if you want to park your car there. If expanding your garage isn't an option, the next best thing is to maximize space to create a feeling of a larger or bigger garage. The following tips can help you do just that.
Flood the garage with light
A well-lit garage creates an illusion of a bigger space. Larger windows and mirrors can be of immense help, with the latter ideal if your garage lacks windows. Also, consider installing a glass handrail in areas of your garage that connect to your main house through an overhead walkway. You can use them as railing dividers to separate your parking, storage, and utility spaces. Unlike traditional opaque railings, glass rails create an unobstructed view, allowing natural light to flood your garage. That will make your garage feel a lot bigger and more spacious. Also, update your walls, ceiling, and floor colors. Opt for lighter tones, as they make spaces appear larger. You can create a more profound effect using the same shade for your walls, ceiling, and floors. However, it would help if you combined this with efficient storage, decluttering, and garage organization strategies to make it more effective.
Install a car lift to increase parking space
Sometimes, all your decluttering efforts may not be enough to create enough parking space in your garage. If you can't (or don't want to) remove non-auto-related items from your garage, consider installing a car lift to create or increase parking space. This solution is also perfect if you have two cars but only enough garage space for one. Of course, the height of your garage will determine if a car lift will work in your case. But don't worry; if your garage door opens very low, you can use a lift conversion to reconfigure the height. An expert can install a post car lift, which acts as a pavement or ramp that hoists your car to create space for another.
Use the ceiling space
If a car lift system wouldn't work for your garage, use your ceiling for other purposes. For example, create storage spaces on your ceiling instead of storing items on the garage floor. Yes, this is possible. Overhead storage racks are the perfect solution in this case. However, your garage should be high enough to accommodate ceiling racks without needing to stoop your body to move around. Ceiling racks are especially convenient for storing bulky items you rarely use. For example, seasonal items, tires, outdoor furniture, and bins that take up too much floor space will fit nicely on your ceiling racks. However, it's important to have these racks professionally installed and purchase only top-quality racks to ensure they handle the weight placed on them without falling.